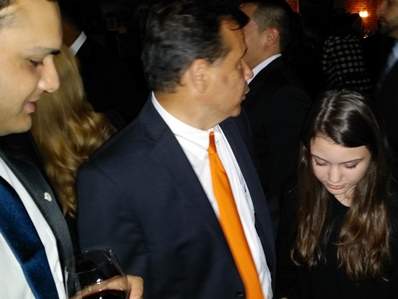 Mayor Pulido's daughter kept tabs on the election results on Election Night
I met with Santa Ana Mayor Miguel Pulido last night at his Election Night Party.  He was relieved that he was winning but was worried he wouldn't garner more than 50% of the vote.  His 11-year-old daughter was checking the election results on her IPad last night.  She has quite an interest in politics – and perhaps she will be running for office after she finishes college.
Pulido ended up with 50.7% of the vote while his challenger Roman Reyna only mustered 6,778 votes, or 33.6% of the vote.  The unknown third mayoral candidate, Mark I. Lopez, netted 15.8% of the vote – likely from those who couldn't bear voting for the other two candidates.
The bad news for Pulido was that his team of City Council challengers – Alex Padilla, Mike Gonzalez and Mirna Velasquez, all lost.  If there is any good news it is that the incumbent who did the worst was David Benavides.  While his colleague Michele Martinez got less votes than Benavides she had three opponents while Benavides squared off against one challenger – Padilla.   Continue reading→