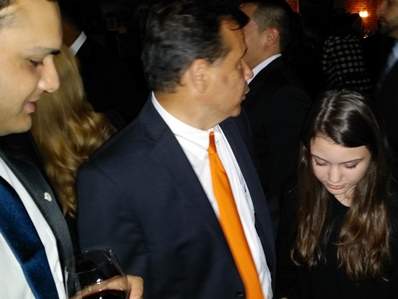 Mayor Pulido's daughter kept tabs on the election results on Election Night
I met with Santa Ana Mayor Miguel Pulido last night at his Election Night Party.  He was relieved that he was winning but was worried he wouldn't garner more than 50% of the vote.  His 11-year-old daughter was checking the election results on her IPad last night.  She has quite an interest in politics – and perhaps she will be running for office after she finishes college.
Pulido ended up with 50.7% of the vote while his challenger Roman Reyna only mustered 6,778 votes, or 33.6% of the vote.  The unknown third mayoral candidate, Mark I. Lopez, netted 15.8% of the vote – likely from those who couldn't bear voting for the other two candidates.
The bad news for Pulido was that his team of City Council challengers – Alex Padilla, Mike Gonzalez and Mirna Velasquez, all lost.  If there is any good news it is that the incumbent who did the worst was David Benavides.  While his colleague Michele Martinez got less votes than Benavides she had three opponents while Benavides squared off against one challenger – Padilla.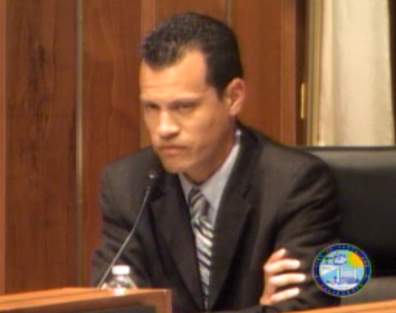 Compare for example how many votes Sal Tinajero ended up with – 12,106, in his contest against Gonzalez, to the votes totalled by Benavides – 10,445.  That is quite a disparity and a sign that the voters weren't all that pleased by Benavides.  Had Padilla's campaign manager, Alex Flores, returned the OC Register's candidate questionnaire and directed Padilla to attend the candidate forums and the interview with the Santa Ana Police Officers Association it is quite possible that Padilla might have defeated Benavides.
The big question now is will our City Council finally stop focusing their time and efforts on bringing down Pulido, who now is subject to term limits, and instead work together to make our city a better place to live?  Crime is way up this year, our police department continues to be woefully understaffed, and our new City Manager seems hell-bent on raising fees and taxes.  We need a functional City Council – and Pulido assured me last night that he wants to work with them.
The silver lining is that Tinajero is now at odds with Benavides and Reyna.  It is quite possible that a new City Council majority could take shape.  It might include Pulido, Tinajero, and perhaps Vince Sarmiento and Angie Amezcua.  We need the adults in the room to take charge!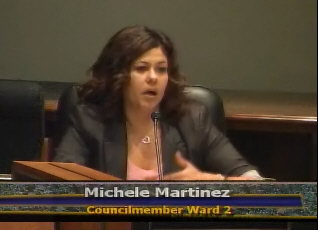 Martinez took some big shots in this election but still prevailed.  However she too needs to decide if she will side with the immature Benavides and Reyna, who have sold their votes to high density apartment developers, or will she instead do what is right for the people of this city?  This will be her last term.  After her dreadful Assembly loss in 2012 she needs to rehab her reputation and continuing to attack Pulido will not help.
Pulido has hinted throughout the past few months that this will be his last term as Mayor of Santa Ana.  That means we have two short years to decide who should follow him.  Of the current crop of Council Members the best might be Tinajero.  You can forget Reyna and Benavides.  They both got spanked by Pulido and effectively have no political future in this city.
Reyna in particular needs to go back to school and earn his GED.  That will do more for him than trying to continue in politics.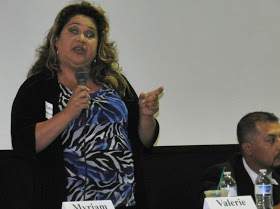 The SAUSD School Board Election
I am very happy that I no longer have any more kids in the Santa Ana Unified School District.  Incumbent School Board member John Palacio won last night as did his sidekick Valerie Amezcua (pictured above).  That is not good news for the SAUSD or the people of this city.
If your kids are still in this school district you really need to look at the charter schools and private schools or placing your kids in neighboring school districts.  And brace yourself.  Amezcua will surely be running for the City Council in the next election.
The Ballot Measures
I spoke to Tinajero last night at his Election Night Party, which was hosted at Sarmiento's Diego's Downtown Restaurant.  Tinajero said in effect that the passage of Measure AA was a good thing as it would force businesses to pay more taxes.  That is not a good thing!  Our local businesses already pay more in city taxes than they would elsewhere in Orange County.  Measure AA will drive more businesses out of our city and discourage new investment in this town.
Measures BB and CC both passed.  But BB, which Tinajero backed, got more votes so it won.  That means that all the dispensaries in town will have to close down and reapply for new permits in a very small part of the city.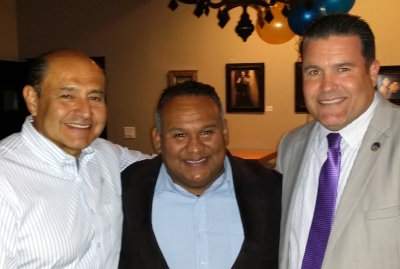 The Legislative Elections
Assemblyman Tom Daly (D-Anaheim) and U.S. Representative Loretta Sanchez both won easily over the creepy Lake Forest carpetbaggers that challenged them.
Sadly Jose Solorio got trounced in the 34th State Senate District.  I don't see eye to eye with Solorio on many issues but he is a good guy while his opponent, Janet Nguyen, will predictably ignore Santa Ana and shower all her attention on Little Saigon.
The silver lining is now Nguyen will finally get off the OC Board of Supervisors.  I met with Lou Correa last night, who Nguyen will replace in Sacramento.  Correa told me that he is definitely going to run for Nguyen's seat in the First District.  That is great news!  Correa did a great job as our State Senator and previously as our Assemblyman.  He lives in Santa Ana and has raised his kids here.  I will definitely do all I can to help him get elected in a Special Election that I expect will take place next February.