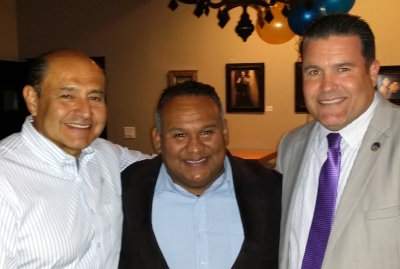 The early returns are in with regard to today's General Election.  So far the incumbents are leading in all of the Santa Ana City Council races.  It is early yet but in what should prove to be a low turnout election this first batch of votes can foreshadow the evening's results.  These are the early absentee votes – representing the most frequent voters.
Santa Ana Mayor Miguel Pulido is thoroughly trouncing Councilman Roman Reyna, with over 52% of the vote versus only 32% of the vote for Reyna.  Clearly Reyna's campaign was undone by his unwise decision to hang out with gang bangers.
In Ward 2 the incumbent, Michele Martinez, is leading with 53.8% of the vote in a crowded field.  Shockingly Gilad Salmon is in second place with 21.3 % of the vote.  Not surprisingly the sole Republican in the race, salsa dancer Rene Gomez, is in dead last with 9% of the vote.
The race in Ward 4 is much closer with challenger Alex Padilla at 41.7% of the vote and incumbent David Benavides at 58.3% of the vote.  Padilla appears to have the best shot at victory of all the Council challengers.  This is likely due in part to voter confusion as another Alex Padilla is running for Secretary of State.
It is too bad that Padilla blew off the Santa Ana Police Officers Association.  They ended up endorsing Benavides.  Padilla also failed to turn in the OC Register's candidate questionnaire.  He also failed to participate in the City Council candidates' forums.  These rookie mistakes were unforgivable.  You have to wonder what his campaign manager, Alex Flores, was thinking.  These mistakes may cost Padilla the election.
In Ward 6 the incumbent, Mayor Pro Tem Sal Tinajero, has 67% of the vote while the challenger, Mike Gonzalez, has 32% of the vote.
In the crowded race for the SAUSD School Board 16 year incumbent John Palacio has a big early lead with 27% of the vote.  His sidekick Valerie Amezcua is in second place with 2,019 votes and Shuntele Andrews is right behind her with 2,005 votes.  Rigo Rodriguez is in fourth place with 1,741 votes and Angie Cano is right behind him with 1,388 votes.
During this campaign I negotiated Pulido's endorsement for Rodriguez but he was in DC. We spoke and he didn't get back to me.  I have to wonder if he bought into the BS against Pulido?  Now it looks like Pulido's endorsement could have been a real boon to Rodriguez.  But he didn't bite.
Measure AA, a ridiculous tax increase, is winning handily.  Measure BB appears to be prevailing over Measure CC.
Over in the 34th State Senate District the race appears to be over with Jose Solorio netting only only 37.4 % of the vote while Janet Nguyen  has 62% of the vote.  She is clearly going to win – but I ran into Lou Correa tonight and he reminded me that when Lynn oarDaucher ran against him she was leading in early returns and he ended up trouncing her.  Correa also told me that if Nguyen wins he is definitely running for her seat on the OC Board of Supervisors.
Loretta Sanchez is leading in her re-election race with over 57% of the vote.  The Lake Forest Carpetbagger, Adam Nick, has 42% of the vote.
The other Lake Forest carpetbagger, Sherry Walker, is also losing, over in the 69th Assembly District, with only 34.8% of the vote.  The incumbent, Tom Daly, has 65% of the vote.