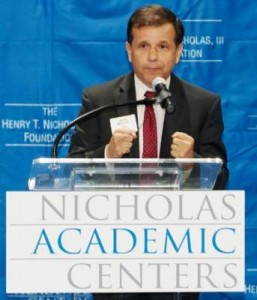 Well the dust has finally cleared and we now know who is running for the Santa Ana City Council in this November's General election.
The Mayor's race lost many of the candidates who had pulled papers, including State Senator Lou Correa and Santa Ana Councilman Vince Sarmiento.  The incumbent, Mayor Miguel Pulido, is running again and he will be facing off against first term Council Member Roman Reyna and a fellow named Mark I. Lopez, who is an entrepreneur/soldier, according to the Voice of OC.
Incumbent Santa Ana council member Michele Martinez is running for reelection in Ward 2 and will be challenged by Mirna Velasquez and Gilad Salmon.  Velasquez is a businesswoman who also works for a local ministry.  Salmon is a web developer.
Councilman David Benavides lost badly when he challenged Pulido in 2012.  Benavides will be running for reelection in Ward 4.  He is being opposed by a new challenger, paralegal Alex Padilla.
Mayor Pro Tem Sal Tinajero is also up for reelection.   Business owner Miguel "Mike" Gonzalez is Tinajero's sole opponent as insurance advisor Nam Pham withdrew his papers, according to the Voice of OC.
Pulido figures to have an easy time beating his opponents.  That does not bode well for the other Council incumbents who are running for reelection as it means that Pulido will be able to help the other Council challengers.  And he will.  I know for a fact that Pulido is sick and tired of dealing with a lame Council that has spent 90% of their time going after him instead of conducting city business.
The Council challengers will have plenty of ammunition for their campaigns.  Crime has spun out of control since the Council majority got rid of former SAPD Police Chief Paul Walters and while the new City Manager says the budget is balanced that doesn't include the huge amount of money we will have to come up with to pay the pensions and health benefits of retired Santa Ana city workers, including police and firemen who get to retire at 55 with pensions that are often in the six figures per year. And huge swaths of the city including the more affluent northern areas are full of vacancies as one business after another packs up and leaves town.