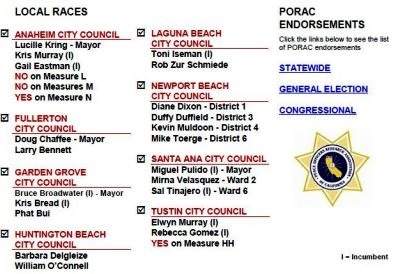 Both the Anaheim Police Association and the Peace Officers Research Association of California have rejected Santa Ana Council Members David Benavides and Michele Martinez as well as their colleague Roman Reyna, who is in the midst of an ill-advised Mayoral campaign.
This comes on the heels of rejections of these candidates by the Association of Orange County Deputy Sheriffs.  The Santa Ana Police Officers Association (SAPOA) also rejected Reyna and Martinez.
Reyna really stepped in it when SAPOA called him out after a picture of Reyna with two hard core gang bangers was posted on Facebook.  He has since become toxic to the entire Santa Ana City Council majority, which recently splintered when Benavides attacked Mayor Pro Tem Sal Tinajero.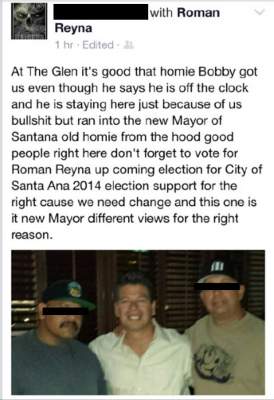 Tinajero has pulled his endorsement of Benavides and is said to be considering doing the same to Reyna.  Because of this Tinajero still enjoys broad support from local law enforcement.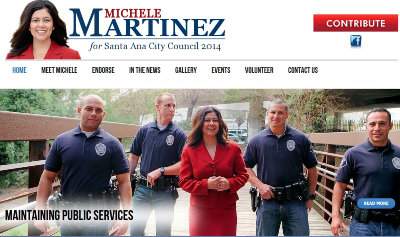 You don't have permission to use this picture Michele!
The same can't be said for Martinez who has been promoting her support for public safety in a slew of mailers this week – and who is now said to be in trouble with  SAPOA for using pictures of SAPD officers even though their association has rejected her.  Those pictures were used by her disastrous Assembly campaign in 2012.  Well she has not supported law enforcement over the past few years.  She led the effort to fire former SAPD Chief of Police Paul Walters, who has endorsed her opponent this year, Mirna Velasquez.  Law enforcement has rallied behind Velasquez with endorsements from SAPOA and the AOCDS as well as PORAC and the Anaheim Police Association.
Santa Ana Mayor Miguel Pulido has picked up all the law enforcement endorsements and it is very clear now that the people of Santa Ana have a choice – to support the law enforcement Mayor, Pulido, or the gang banger candidate, Reyna.  It is very likely at this point that Reyna is finished.  The question is – will he also bring down Benavides and Martinez?
Benavides is being challenged by Alex Padilla, a young paralegal who grew up in Santa Ana, whereas Benavides is from East Los Angeles.  Padilla, like Velasquez, has earned the support of Walters as well as Mayor Pulido.