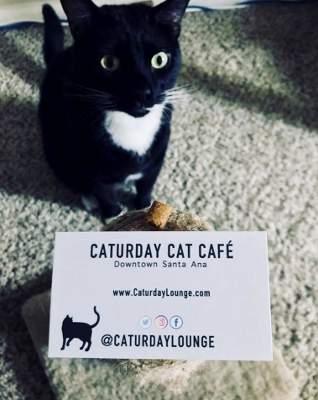 What might be Santa Ana's most unique new business, the Caturday Cat Cafe & Lounge, is now open, in DTSA, at 103 E. 3rd Street.
Caturday Cat Café & Lounge is a 501(c)3 Non-Profit Facilitating Adoptions for Rescue, Homeless, and Second Chance Kitties in Downtown Santa Ana, Orange County, according to Yelp.
You can buy coffee, teas, specialty drinks, snacks, and merchandise – and all proceeds go directly back to cat rescue efforts. A visit costs $20 for 55 minutes and includes a drink.
If you really like one of the cats you meet at Caturday then you are in luck. All of their cats are adoptable!