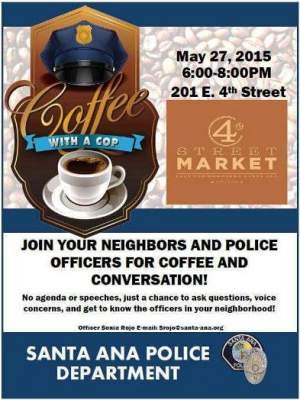 Join your friends and neighbors and our local Santa Ana police officers for coffee and conversation on May 27, 2015, from 6 to 8 pm, at the 4th Street Market, located at 201 E. 4th St., in Downtown Santa Ana.
The 4th Street Market is essentially a food court featuring a number of different eateries and Portola Coffee.  There is seating both indoors and in the outdoor patio.  City parking is available for a few bucks next door.
No agendas or speeches this is just a chance to ask questions, voice concerns and get to know the police officers in your neighborhood.