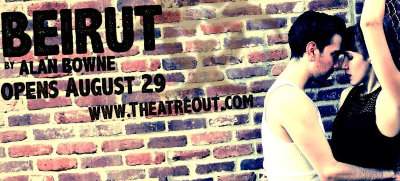 THEATRE OUT REVIVES CONTROVERSIAL BEIRUT
SANTA ANA, CA (August 18, 2014)— Theatre Out is set to open their revival of the controversial drama, Beirut by Alan Bowne as it's 5th 2014 main stage production on August 29, 2014.
Beirut was originally produced by the Manhattan Class Company in New York in 1987 at the height of the AIDS epidemic and presented a dystopian future where panic and isolation become the rule of law. The show received rave reviews for its brave and honest look at the "what if" of the AIDS crisis. Since its premiere, the play has been produced around the world, praised for its rich character study and lyrical dialogue. Beirut was later turned into a 1993 film, Daybreak featuring Cuba Gooding, Jr. and Moira Kelly.
Set in a quarantined district of New York that has been dubbed Beirut in the somewhat near future, the play introduces the audience to Torch, a young man who has tested positive, without symptoms, for a nameless and incurable disease. Instead of reacting with science and medicine, the government of the United States has made a choice to respond to the disease with force and authoritarian control over the sex lives of its citizens, physically branding those who test positive to the disease. Torch's girlfriend, Blue, is able to sneak past the guards, cameras and sex detectors in an attempt to be reunited with her lover. Blue must choose between a life of freedom or an unknown life of ever-evolving symptoms and eventually death. Continue reading→