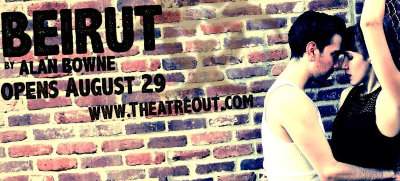 THEATRE OUT REVIVES CONTROVERSIAL BEIRUT
SANTA ANA, CA (August 18, 2014)— Theatre Out is set to open their revival of the controversial drama, Beirut by Alan Bowne as it's 5th 2014 main stage production on August 29, 2014.

Beirut was originally produced by the Manhattan Class Company in New York in 1987 at the height of the AIDS epidemic and presented a dystopian future where panic and isolation become the rule of law. The show received rave reviews for its brave and honest look at the "what if" of the AIDS crisis. Since its premiere, the play has been produced around the world, praised for its rich character study and lyrical dialogue. Beirut was later turned into a 1993 film, Daybreak featuring Cuba Gooding, Jr. and Moira Kelly.
Set in a quarantined district of New York that has been dubbed Beirut in the somewhat near future, the play introduces the audience to Torch, a young man who has tested positive, without symptoms, for a nameless and incurable disease. Instead of reacting with science and medicine, the government of the United States has made a choice to respond to the disease with force and authoritarian control over the sex lives of its citizens, physically branding those who test positive to the disease. Torch's girlfriend, Blue, is able to sneak past the guards, cameras and sex detectors in an attempt to be reunited with her lover. Blue must choose between a life of freedom or an unknown life of ever-evolving symptoms and eventually death.
The New York Times raved, "The marvel of Mr. Browne's work is the richly raunchy language, tuned to the gritty rhythms of the street. It's crude yet lyrical; even at its most scatological, the dialogue sings."
Theatre Out's revival of Beirut is directed by award-winning director, Tito Ortiz, director of this season's critically-acclaimed Corpus Christi. "Though the play can be painful to watch at times, we have found a way to find the beauty in Bowne's dystopian world where the human spirit has been absolutely beaten to a pulp."
"This is a very different piece for Theatre Out," commented co-founder and producer David C. Carnevale. "In our staging, we are challenging our audience to experience Bowne's pain and anger first-hand with an immediacy and intimacy that is at once devastating and comforting."
Beirut stars Andrew Villarreal as Torch. Villarreal was last seen on the Theatre Out stage as Dr. Frank N Furter in a performance that the Orange County Register raved was, "so original it will make you forget the 1975 film's Tim Curry – and any Franks you've seen in other stagings." Jade Paris stars as Blue. Paris was last seen in Fullerton College's production of John Logan's Peter and Alice in the 2014 Director's Festival.
Ortiz commented of the cast, "It's been a very fulfilling experience being able to witness these two actors take on a show with such heavy subject matter. Andrew and Jade take no prisoners in their performances and I'm positive this will be a night of theatre our audiences will never forget."
Beirut features a production designed by Theatre Out co-founders David C. Carnevale and Joey Baital.
Tickets for Beirut can be purchased online at www.TheatreOut.com or by visiting the Theatre Box Office 1 hour prior to curtain time, as available. Theatre Out is located at 402 W. 4th Street in Santa Ana, California. Beirut performs August 29, 2014 – September 13, 2014 on Fridays and Saturdays at 8:00 pm. With a Sunday 5:00 pm performances on September 7, 2014 and a Thursday performance at 8:00 pm on September 4, 2014. All tickets are $15. Group discounts for groups of 10 or more are available by calling the Box Office at (714) 220-7069.
Theatre Out was founded in 2006 as an at-large company dedicated to performing theatrical works relevant to the lesbian, gay, bisexual and trans community throughout Orange County with an emphasis in sharing the LGBT experience with allies and the greater community. Theatre Out has received national and international attention for their work, receiving numerous awards for excellence in production. The founders of Theatre Out have been featured on the front page of The Orange County Register and were featured in the OC Weekly's Best Of 2012 issue as part of the "Dirty Dozen".
###
PRESS CONTACT: David C. Carnevale, david@theatreout.com