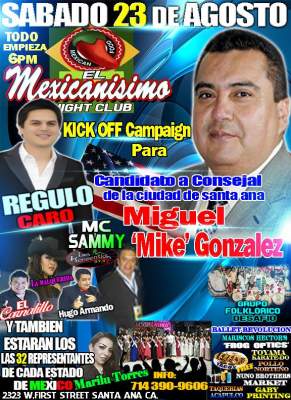 Mike Gonzalez, a candidate for Ward 6 on the Santa Ana City Council, is hosting his Campaign Kick-Off on August 23, 2014, at 6 pm, at the nightclub/restaurant he owns, Mexicanisimo, located at 2323 W 1st St, Santa Ana.
The MC for the event is "Sammy" and various musical artists will be there including Regulo Car, Hugo Armando, and Grupo Folklorico Desafio.

Gonzalez owns a security guard company as well.  He is a licensed security guard instructor as well.  Click here to see his Facebook page.
Gonzalez' Bio:
Born in California and raised with one siblings by, Miguel Gonzalez, learned early on the value of hard work, teamwork, and perseverance. He graduated at the top of his high school class and led his football team to a state championship victory, all while working a part-time job as a security guard.
Mike's academic prowess and leadership abilities earned him a scholarship to an Universidad de Guadalajara, where he graduated with a degree in political science. He spent the next two decades prosecuting the state's gravest offenders, in addition to volunteering for a variety of charitable causes.