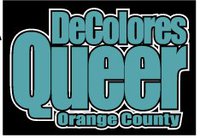 DeColores Queer Orange County in collaboration with Breath of Fire Latina Theater Ensemble, seek writers and performers to take part in a monologue showcase. They are searching for an array of stories and/or pieces that revolve around the Queer Latina/o experience in Orange County to be preformed as monologues for our upcoming fundraiser. No experience is necessary. There will be a series of workshops for those who would like to participate in the showcase.
First Writing Workshop – July 17th from 11 a.m. to 2 p.m.
Second Writing Workshop – July 24th from 11 a.m. to 2 p.m.
Performance Workshop – July 31st from 11 a.m. to 2 p.m.
*All participants must attend at least one of the writing workshops and must attend the final performance workshop.
Click here to RSVP on Facebook.
DeColores Queer Orange County creates opportunities for social engagement, community visibility, and political activism by organizing cultural events, support groups, civic actions, and an annual conference. The Vision of DeColores Queer Orange County is to create empowering social, supportive, and political spaces for Queer Latin@s in Orange County. For more information contact Javier at (714) 209-3397 or Email decoloresoc@gmail.com
The Breath of Fire Latina Theater Ensemble is located at 310 W 5th St., in Santa Ana.