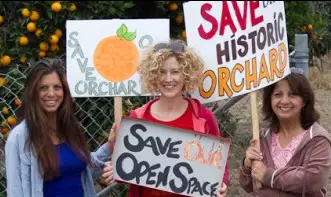 The L.A. Times published an article about the effort to save the Sexlinger Orchard this week.  Here are a few excerpts from the article:
A real estate company wants to build 24 single-family homes on the land, but opponents with the Save Our Orchard Coalition say the project, currently in the review stage with the city, would destroy valuable property that could be preserved and used as an educational center and community garden.

The plot, purchased by the Sexlinger family in 1913, is one of the region's oldest unaltered orange groves. A Craftsman bungalow, built by the family in 1914, still stands.
The Save the Sexlinger Orchard supporters are going to be holding another demonstration, on Saturday July 23, from 10:00am – 2:00pm, at the entrance of the Sexlinger Orchard.
The activists are saying that this is likely to be the last demonstration before the Environmental Impact Report (EIR) is released by the City Planning Commission. They will have information about how you can impact this issue with your comments regarding the EIR to the Planning Commission and City Council.
You can find out more about these folks online on Facebook by clicking here.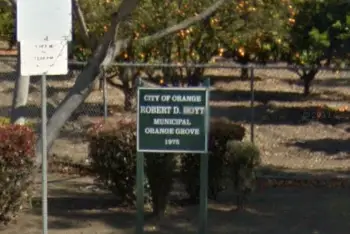 There actually is a municipal orange grove just up the street from the Sexlinger Orchard.  It is the Robert D. Hoyt Municipal Orange Grove, at Hart Park.  Hoyt, was once the Mayor of Orange and his story is very interesting.  You can read about him by clicking here.
And you can see a few pictures of this grove by clicking here.