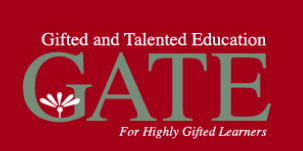 A friend of mine who teaches at the Santa Ana Unified School District has started a new blog for local teachers.  The focus is on GATE training (gifted and talented education) but the scope is teaching in general.  Here are a few excerpts from her opening post:
The idea for this blog came about at a recent GATE training provided by the Santa Ana Unified School District.  At the training, teachers said they wished they had more opportunities to share, plan together, and process what they were learning.  Well, now we do – right here.  This blog was created by teachers for teachers – a place to discuss, reflect, get or give ideas, ask questions, encourage each other – you name it – this is the place.  And, it's certainly not just for teachers of identified GATE students.  Many of the GATE strategies are good teaching for all our students.

The blog/website is definitely a work in progress, but here's the basic idea:  In addition to commenting on the posts authored by others, teachers may also send in their own items (santaanagateteachers@gmail.com) to be posted on the site, including posts (short articles), photos, documents, and videos.  These will be uploaded and other teachers will then be able to make comments or even download the attached materials for their own use.  You might want to send in something you're working on or some ideas you have in order to get feedback from others, or you might want to make a lesson plan available for others to use.  Maybe you're so excited about how well a lesson turned out, you just really want to share what happened in a post.  Or, maybe everything didn't go as well as planned and you'd be willing to share that.
My oldest son is a product of GATE training and my eight year old looks to be following suit.  It is a great program and I am glad to see it getting a boost with this new blog.