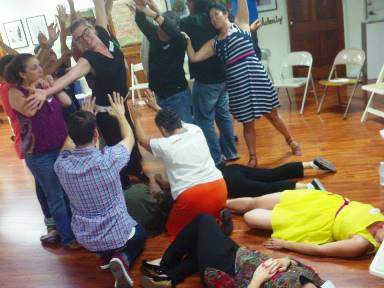 Dialogue/Diálogos Invites Santa Ana to a Free Theatre-Making Workshop! No experience necessary. Introduction to Acting in Movement is set for Tuesday, Oct. 15, 2013 from 6:30 pm to 8:30 pm at Latino Health Access, located at 450 W 4th St, Suite 130, in Santa Ana. The Instructor is Mercy Vazz.
This workshop will introduce first-time actors to telling a story without words. The workshop also introduces the idea that stories are not bound by text or dialogue, but can be told through the magic of the imagination and physical expression as well.
Questions: dialogos@scr.org * (714) 708-5843.  Click here to RSVP on Facebook.