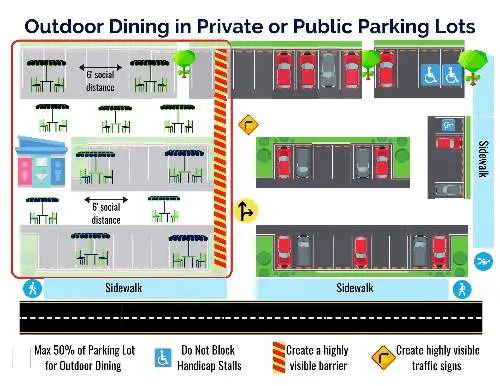 On May 28, 2020, City Manager Kristine Ridge approved Executive Order 5-2020, which authorizes Downtown restaurants and retail businesses to temporarily expand dining and retail operations onto sidewalks and parking spaces and these businesses citywide to operate in parking lots. Businesses that want to do this should read the Guide for Expanded Restaurant + Retail Space, which is available at www.santa-ana.org/cd/economic-development.
Restaurants should also follow State guidance for restaurants providing outdoor dining, takeout, drive-through pick-up and delivered meals: https://files.covid19.ca.gov/pdf/guidance-outdoor-restaurants.pdf
Under the Governor's current order, restaurants throughout California are not allowed to operate indoors. Read more at https://covid19.ca.gov/.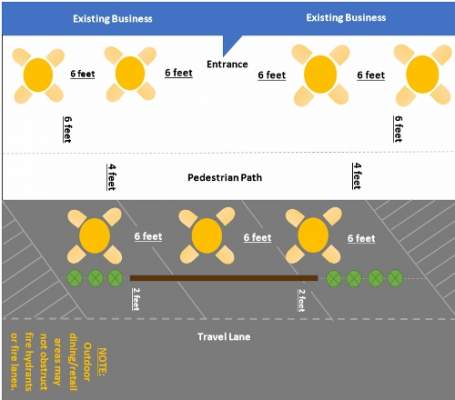 OUTDOOR DINING & RETAIL:
For the duration of the Governor's stay-at-home order, City code requirements regarding certain permitting of sidewalk use shall be temporarily suspended to allow restaurants and retail businesses in the Downtown Santa Ana Business Improvement District to operate outdoors on sidewalks. Please maintain unobstructed pedestrian flow of at least 4 feet and do not block access to public utilities, crosswalks, bus stops, entrances/exits, and at least 20 feet of fire lane shall not be obstructed at any time. Operation hours of outdoor space shall be restricted to the operating hours of the business.
Restaurants and retailers citywide can convert up to 50% of off-site private parking spaces counted for required parking to outdoor dining or retail space, when the lot is immediately adjacent to the parent property.
FOOD ISLANDS/PARKLETS:
Downtown businesses may request to set up Food Islands or Parklets on street parking spaces for outdoor dining and retail operations. Food Islands and Parklets may be used by multiple businesses and do not require entire street closures, but rather may reserve specific parking spaces.
Temporary barrier materials must be at least 2 feet away from the edge of the adjacent travel lane and barrier materials such as pedestrian rails, wood, a-frames, or painted plastic or other materials may be used to define Food Island or Parklet boundaries. Temporary surface materials such as chalk or turf are allowed for sidewalks or parking spaces. To activate metered parking spaces, please request approval from the City of Santa Ana by calling (714) 673-3619.
TEMPORARY SALE & CONSUMPTION OF ALCOHOL:
The City of Santa Ana will temporarily allow the sale and consumption of alcohol within private or public outdoor dining or Food Islands that are operated and approved by business owners that have permits and authorization from the Alcoholic Beverage Control, as outlined in the Fourth Notice of the ABC guidelines: www.abc.ca.gov/fourth-notice-of-regulatoryrelief/.
SAFETY PROTOCOLS:
The State requires the use of face coverings in most public settings. Businesses must use the COVID-19 safety protocols and industry reopening guidelines of the California Department of Public Health and CDC and OSHA rules. More information: https://covid19.ca.gov/
OTHER BUSINESS RESOURCES:
• Business Hotline: A Business Resource Hotline is available for local businesses to communicate and get resources during economic recovery from the COVID-19 pandemic. Available Monday-Thursday during normal business hours. Call (714) 647-5477.
• $10,000 Business Grant: Applications are now being accepted for $10,000 grants to help small businesses, nonprofits and independent contractors in the First District of the Orange County Board of Supervisors that have been negatively impacted by COVID-19. The deadline to apply is Friday, July 31, 2020, at 5 p.m. For more information, please visit https://d1.ocgov.com/District1GrantProgram
• City of Santa Ana Information: For more information about COVID-19 resources and news from the City of Santa Ana, please visit www.santa-ana.org/covid19.
Llévalo afuera! Esto es lo Que los Restaurantes y Negocios Minoristas de Santa Ana Necesitan Saber Para Expandir al Aire Libre
El 28 de mayo de 2020, la Gerente Municipal Kristine Ridge aprobó la Orden Ejecutiva 5-2020, que autoriza a los restaurantes y negocios minoristas del Centro de Santa Ana a expandir temporalmente las operaciones de restaurantes y tiendas minoristas en las aceras y cajones de estacionamiento en el Centro de Santa Ana y a estos negocios en toda la ciudad operarse en estacionamientos. Se recomiende que los negocios que quieren hacer esto debe leer el Guía para restaurante ampliado + espacio comercial, que es disponible en www.santa-ana.org/cd/economic-development.
Los restaurantes también deben seguir las pautas del Estado para proveer servicio de comida en exteriores, comida para llevar y comida de entrega: https://files.covid19.ca.gov/pdf/guidance-outdoor-restaurants.pdf
Bajo la orden actual del Gobernador, los restaurantes de California no pueden servir comida en el interior. Lea más en https://covid19.ca.gov/.
RESTAURANTES Y NEGOCIOS MINORISTAS AL AIRE LIBRE:
Durante la duración de la orden de permanencia en el hogar del Gobernador, los requisitos del código de la Ciudad con respecto a ciertos permisos de uso de la acera se suspenderán temporalmente para permitir que los restaurantes y negocios minoristas en el Distrito de Mejoramiento Comercial del Centro de Santa Ana (Downtown Santa Ana Business Improvement District) que operen al aire libre en las banquetas. Mantenga un flujo peatonal sin obstáculos de al menos 4 pies y no bloquee el acceso a los servicios públicos, cruces peatonales, paradas de autobús, entradas/salidas, y al menos 20 pies de carril contra incendios no se obstruirán en ningún momento. Las horas de operación del espacio exterior se limitarán a las horas de operación del negocio.
Los restaurantes y negocios minoristas de toda la ciudad pueden convertir hasta el 50% de los espacios de estacionamiento privado fuera del sitio contados para el estacionamiento requerido en restaurantes o locales comerciales al aire libre, cuando el lote está inmediatamente adyacente a la propiedad principal.
ISLAS DE COMIDA/PARKLETS:
Las empresas del Centro de Santa Ana pueden solicitar la instalación de Islas de Comida (Food Islands) o Parklets en espacios de estacionamiento en la calle para restaurantes y operaciones minoristas en el aire libre. Food Islands and Parklets pueden ser utilizados por múltiples empresas y no requieren cierres completos de calles, sino que pueden reservar espacios de estacionamiento específicos.
Los materiales de barrera temporales deben estar al menos a 2 pies de distancia del borde del carril de viaje adyacente y se pueden usar materiales de barrera como rieles peatonales, madera, A-frames, plástico pintado u otros materiales para definir los límites de Food Island o Parklet. Los materiales de superficie temporales como la tiza o el césped están permitidos para las aceras o espacios de estacionamiento. Para activar los espacios de estacionamiento medidos, solicite la aprobación de la Ciudad de Santa Ana llamando al (714) 673-3619.
VENTA TEMPORAL Y CONSUMO DE ALCOHOL:
La Ciudad de Santa Ana permitirá temporalmente la venta y consumo de alcohol en restaurantes al aire libre privados o públicos o en Islas de Alimentos que son operados y aprobados por dueños de negocios que tienen permisos y autorización del Control de Bebidas Alcohólicas, como se describe en la Cuarta Notificación del Pautas ABC: www.abc.ca.gov/fourth-notice-of-regulatoryrelief/.
PROTOCOLOS DE SEGURIDAD:
El Estado requiere el uso de mascarillas en la mayoría de los entornos públicos. Las empresas deben usar los protocolos de seguridad COVID-19 y las pautas de reapertura de la industria del Departamento de Salud Pública de California y las reglas de CDC y OSHA. Más información: https://covid19.ca.gov/
OTROS RECURSOS PARA NEGOCIOS:
• Línea Directa Para Negocios: Línea directa de recursos empresariales para que las empresas locales se comuniquen y obtengan recursos durante la recuperación económica de la pandemia COVID-19. Disponible de lunes a jueves durante el horario comercial normal. Llama al (714) 647-5477.
• Subsidios de $10,000 para Negocios: Ahora se aceptan solicitudes de subvenciones de $10,000 para ayudar a pequeñas empresas, organizaciones sin fines de lucro y contratistas independientes en el Primer Distrito de la Junta de Supervisores del Condado de Orange que han sido impactados negativamente por COVID-19. La fecha límite para presentar la solicitud es el viernes 31 de julio de 2020 a las 5 p.m. Para obtener más información, visite https://d1.ocgov.com/District1GrantProgram.
• Información de la Ciudad de Santa Ana: Para más información sobre recursos y noticias de COVID-19 de la Ciudad de Santa Ana, por favor visite www.santa-ana.org/covid19.