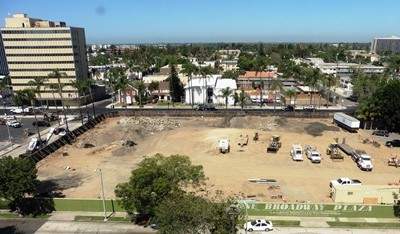 The Calacas Cafe recently relaunched after changing from a coffee shop to a Mexican cafeteria to compete in the changing downtown atmosphere, labeled by some as one of the hippest scenes in Orange County, according to the O.C. Register.
With a new bar or restaurant opening downtown just about every other month, the owner of Calacas, Rudy Cordova, said he felt he just couldn't keep up.
No one can keep up.  There are only so many hipsters around and the only way that Downtown Santa Ana's hipster food and drinking – and arts – scene is going to survive is with a massive influx of new customers.  
Now how is that going to happen?  The solution is currently a big empty dirt lot called the "One Broadway Plaza."  Developer Mike Harrah wants to build Orange County's tallest office tower there and many have called his scheme plain nuts.  But if he succeeds and if folks lease out the space Harrah just might save the DTSA bars and restaurants.
Face it.  There is a different vibe in Downtown Santa Ana.  It isn't the boring pre-planned Irvine or the Resort Wasteland of Anaheim.  We are the County Seat and Santa Ana also is home to many courthouses and state and federal agencies.
What about the DTSA Artists Village?  Well the artists are now complaining that they want the City of Santa Ana to invest millions to keep them afloat.  That is simply not going to happen.  But if the OBP Tower gets built and gets filled it will bring new customers to the Artists Village including business owners who just might want to buy new artwork to decorate their OBP offices.
Now the downside to all this is that the continued gentrification of Downtown Santa Ana could in the end push all of the low end artists out of town.  That is happening in the Los Angeles Arts District already, according to a recent L.A. Times article.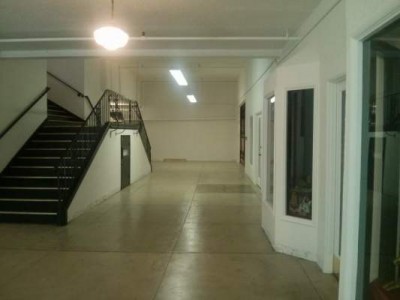 Spending tax money on subsidizing artist studios is a no go in Santa Ana.  The reality is that they are either going to have to a) figure out how to sell their work to the masses or b) move to other parts of town that are more blue collar and have cheaper rents.  The Artists Village was never about helping them.  The main intention of the city leaders was always to gentrify Downtown Santa Ana and to increase property values and rents.
As for our Downtown, Santa Ana's city leaders would be wise to look at the business mix in Downtown Brea and in Downtown San Diego where foodie type establishments coexist with national chains.  DTSA needs family friendly restaurants in addition to all of the pricey hipster joints.
The reality is that the majority of Santa Ana's residents have few reasons to visit DTSA.  But that doesn't have to be the case.  Build OBP and let's see who else opens up businesses in our Downtown.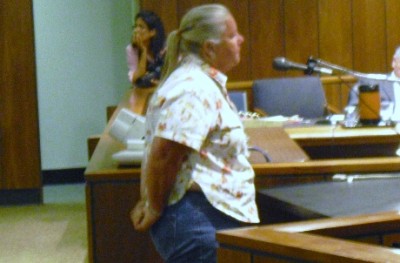 What about the Luddites who oppose OBP?  They need to realize that the changes happening in our Downtown aren't going to be sustainable without the OBP bringing in new masses.  New masses = more sales and more sales tax revenues and new business license fees.
I still don't like the money-wasting idea that is the proposed Santa Ana Light Rail to nowhere but fun trolley buses could be used to convey folks from the train station to OBP and DTSA.
First of course Harrah has to fill up his OBP tower.  That may prove to be a real challenge but Harrah doesn't take no for an answer.  I trust he will find a way even without the redevelopment money that Mayor Miguel Pulido used to such effect in our Downtown for so many years.