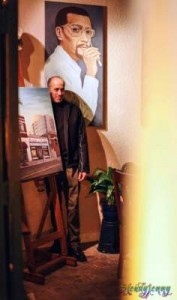 FOR IMMEDIATE RELEASE
Press Contact: Matt Southgate – 714.381.9136 – mattsouthgateart@sbcglobal.net
"A Tribute to Santa Ana" by Urban Realist Painter, Matthew Southgate will open THIS SATURDAY 8/2 during DTSA's ArtWalk. Celebrate historic scenes & local movie legends from the "Golden City" such as Chaplin, Brando, Bebe Daniels and more!
Southgate was taught painting by the legendary Emigdio Vasquez and also studied art at Santa Ana College. He's been active in the Santa Ana arts scene for over 20 years, exhibiting at the Caged Chameleon Gallery in the 80's, which DIEGO'S chef Richard Espinachio used to run, as well as in the Bowers Museum, OCCCA, and his infamous Studio del Sotano gallery in the historic Santora basement. A skilled muralist, portrait painter and sign-maker, Matt has also been active in local politics, advocating for Artists with the Artists Village Association of Santa Ana (AVASA) and United Artists of Santa Ana (UASA). His guiding vision has been to preserve the historic Santora Arts Building, Artists Village and DTSA as cultural hubs by providing Artists and Arts Businesses with the support needed so they can continue showcasing Santa Ana's unique history.
Matt's art is characterized by hyper-realistic urban portraits of Santa Ana locals, historic buildings and businesses. He also weaves nostalgic visual narratives of Santa Ana's Vaudeville & Show Business Legends like Charlie Chaplin, Marlon Brando and Bebe Daniels. Similarly, his evocative portraits of street characters, the homeless and DTSA's richly diverse immigrant community have won many prizes & accolades. Southgate currently works at the Bowers Kidseum where he teaches Art History & Painting to local youth.
Don't miss THIS SATURDAY @ Diego's for August ArtWalk. There will be food & drink specials all night!
"A Tribute to Santa Ana" @ Diego's Downtown located at 224 E. 3rd St, in Santa Ana.  Opening from 6pm to Midnite.