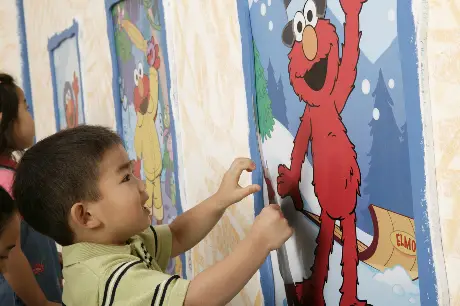 Grab the kids and run, jump and play your way through an interactive exhibition all about the human body. Sesame Street Presents: The Body comes to Discovery Science Center on January 29. This exhibit will cover everything from fingers and toes to your ishy squishy insides.
Click here to download a $5 coupon!
Meet & Greet With Elmo!*
Visit the Discovery Science Center every weekend for a meet & greet with Elmo! He will be inside the exhibit at various times on Saturdays & Sundays through Feb 28.
Some of the Wonderful Displays are:
Your Insides.
The body is an amazing, complicated machine and you can't even see most of it… except here! Count your organs at the Count's Organ Organ and see what happens to the food you eat at Oscar's Digestion.
Your Outsides.
Learn all about the different body parts you can see, like your hands, your feet and your head. Learn what they do and put them to use to help Elmo ride a bike or see how high you can make Grover jump.
How You Work.
You'll learn what makes you tick, and even get the chance to put your body to the test at Rosita's Locomotion and Grover's Dance party, a groovy disco where you can boogie along with Grover.
Staying Healthy.
Staying healthy is one of your body's most important jobs. Learn how eating healthy foods, exercising and resting help keep your body healthy and strong at Ernie's Rub-A-Dub Tub and Baby Bear's Mini Mart.
The Discovery Science Center is located at 2500 North Main Street, in Santa Ana.  Call them at 714-542-2823.
Santa Ana residents receive free admission with ID (proof of residency) on the first Tuesday of every month.