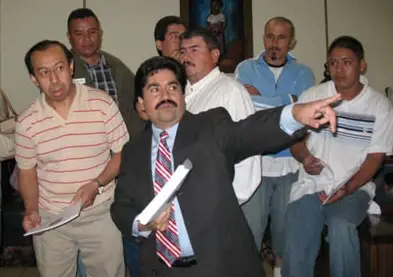 For Immediate Release: January 26, 2011
For More Information Contact: Carol Chamberlain – Office: (916) 319-2069, Cell: (916) 804-5355
Assemblyman Solorio Applauds Senate Leader Steinberg's Call for Simplifying State Regulations
Assemblyman Will Author Bills Targeting Outdated Regulations in the Insurance Industry

SACRAMENTO, CA – State Assemblyman Jose Solorio (D-Anaheim) applauded State Senate President pro Tem Darrell Steinberg's call for government agencies to search for outdated or duplicative regulations that can be eliminated without sacrificing important labor and environmental standards.
"I agree with the Senate pro Tem's idea," says Solorio. "We know there are regulations on the books that are duplicative, archaic or inconsistent with current law and may have hindered job creation. I know we can do a better job of streamlining regulations to make California function more effectively and be more business friendly. It should not take a business years to meet regulatory approval before it can begin construction, open its doors and hire employees."
Assemblyman Solorio, Chair of the Assembly Committee on Insurance, is authoring a few bills this session that will address regulatory burdens within the insurance industry. One is a bill, supported by both business and labor advocates, to streamline the "notices" provided to injured workers, as the current system is expensive to employers, and confusing to employees. He will also work to repeal outdated regulations in the low-cost automobile insurance program.
"These measures I will be introducing are examples of regulations that are outdated and burdensome to workers, consumers and employers. I look forward to partnering with Senate pro Tem Steinberg to simplify old and duplicative regulations that exist throughout the state's bureaucracy," Solorio says.
It is a perception among business leaders, throughout the United States and in California, that the state's regulatory environment is burdensome and may be stifling economic growth, particularly for small businesses. Federal data indicates that the amount of time businesses and individuals must spend filing taxes, applying for permits and submitting reports has increased by more than 30 percent in the past decade. Also, a Small Business Administration report last year found that federal regulations cost companies with 20 or fewer workers $10,600 per employee.
"A simple clause added to a regulation can have the unintended consequence of causing ambiguity or duplication and should be reviewed," Solorio added. "But with that in mind, we must take care to keep the rules that do have purpose. We need to be precise about this."
President Barack Obama has also issued an executive order for regulatory review at the federal level.
State Assemblyman Jose Solorio is the Chair of the Assembly Insurance Committee and also serves on the Assembly Appropriations and Transportation committees. He represents the Sixty-Ninth Assembly District, which includes the cities of Anaheim, Garden Grove, and Santa Ana.
________________________________________
To learn more about State Assemblyman Solorio and his legislative work, please visit his official legislative website at www.assembly.ca.gov/solorio.