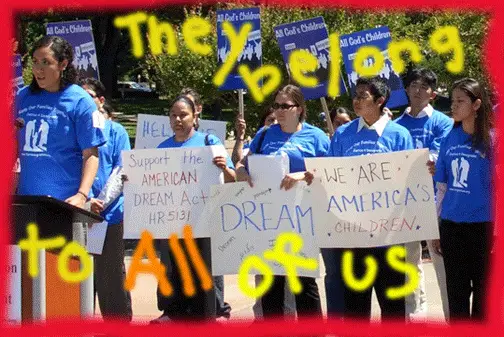 HOPE Coalition of Orange County to Host Forum on "Generations of Lost DREAMS: Finding Solutions"
Friday, January 28 in Anaheim
FOR IMMEDIATE RELEASE
Contact Person: Minerva S.G. Stone
714-376-8065 (cell) / E-Mail: gomez_minerva@yahoo.com
The newly formed Hope Coalition of Orange County recognizes that it has been several weeks since the U.S. Senate failed to take decisive steps to vote on the DREAM Act, which was guided in the last days of 2010 by Senate Majority Leader Harry Reid. These same student leaders also are re-emerging more determined just days after President Obama's State of the Union speech addressing our nation's current predicaments and working together to find solutions. The President stated, "They (children of undocumented parents) grew up as Americans and pledge allegiance to our flag, and yet live every day with the threat of deportation. ….. But as soon as they obtain advanced degrees, we send them back home to compete against us. It makes no sense."
The HOPE Coalition agrees with President Obama, that the coming debates will be difficult, challenging and will take time to address the millions now living in the shadows across America .
College graduate and one of the Coalition leaders Minerva S.G. Stone totally agrees with our President as he reinforced his beliefs that America must "stop expelling talented, responsible young people who can staff our research labs, start new businesses, and further enrich this nation." Ms. Stone stated, " Orange County students are getting ready for a new congressional session with high hopes of great changes to come. The first step is to host a forum on Friday, January 28 to address the hopelessness in failed DREAMS."
Guest speaker Dr. Roberto Gonzales, University of Washington will discuss research studies and results that will assist citizens and non-citizens to understand the multi-generational immigration debates of previous DREAM Act efforts.
FORUM: "Generations of Lost DREAMS: Finding Solutions"
Friday January 28, 2011 (6:00 pm– 8:30 pm)
Betsy Ross Elementary School (Cafeteria), 535 South Walnut Street, Anaheim , CA
Information: 714-376-8065 / E-Mail: gomez_minerva@yahoo.com
Another Coalition leader and college graduate, Antonia Rivera states, "We believe it is our responsibility to prevent the continuing intolerance for under-represented communities. We need to self-empower Orange County communities to step up for America and to also teach leadership skills on civil rights advocacy to young students who will follow in their footsteps."
The goal of the HOPE Coalition of Orange County is to address the difficult and different issues confronting community residents in Orange County . This Forum is the group's first efforts to educate communities on the enormous and positive impact the DREAM Act will have for our nation and how it will affect every single person – each one of us.
The HOPE Coalition is committed to a target goal of fund-raising $25,000 for scholarships for students affected by the DREAM Act. Contributions can be sent to California LULAC Foundation, Inc., PO Box 1810 , Santa Ana , CA 92702 .
The HOPE Coalition of Orange County is composed of community organizations and leaders, including Los Amigos of Orange County, Orange County Community Housing Corporation, Santa Ana LULAC #147, and the Orange County DREAM Team.
###