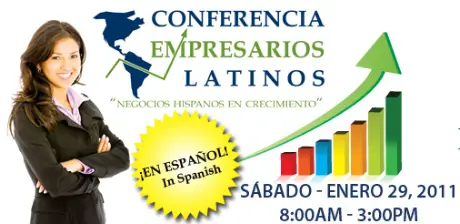 The Orange County Hispanic Chamber of Commerce, in collaboration with the Small Business Administration (SBA), Internal Revenue Service (IRS), Orange County Board of Equalization (BOE), consulates of Mexico, El Salvador and Colombia, and various private enterprises engaged with the proper development of Hispanic businesses in Southern California invite you to attend the Latino Business Entrepreneurs Conference on January 29, 2011 from 8:00 am through 3 pm.  The conference will be held at the Santa Ana Elks Lodge, located at 212 Elks Lane, in Santa Ana.
Registration is $15 if you pre-order, or $20 at the door.  Be advised that this conference will be offered in Spanish only.
SOME TOPICS TO BE COVERED
Specialized seminars for business owners or people who are thinking of starting their own businesses.
Strategies for survival and growth / Growing and Survival Strategies
Entrepreneur Do I have what it takes? / Am I an ENTREPRENEUR?
Promoting my business on the Internet / Internet Marketing Strategies
Effective Communication / Effective Communication
Plan for success – Business Plan / Business Plan – Planning for Success
Legal and Business Insurance / Business and Legal aspects
Insurance
Employee or Independent Contractor? / Employee or Independent Contractor?
Finance Business / Small Business Financing
True leadership / The True Leadership
Customer Service / Customer Service
Sales Tax / Sales Taxes
Time Management / Time Management
The seminar agenda is subject to change without notice. Please visit www.celatinos.org for the latest agenda.
Register for the Latino Entrepreneurs Conference 2011 in Santa Ana, by clicking here.
The main objective of this conference is to benefit the employer Spanish through workshops (classes) specializing in starting a business, Improving an Established Business, Business Be Successful Attitude. These seminars will be taught by experts in various fields such as: tax, finance, licenses, insurance, marketing, advertising, planning, personal development, etc.
Get $ 5.00 off if you "Like" this Facebook Page.