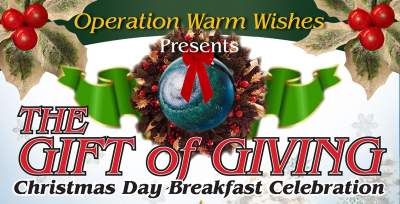 Operation Warm Wishes Presents: The Gift of Giving – Christmas Pancake Breakfast Celebration and Laundry Day for the Homeless and Families in Need.
We are taking over a local Laundromat in Orange County California (Good Choice Laundry-1620 East 1st Street, Santa Ana, CA 92701) to serve the homeless and families in need in a very special way on Christmas.
We are doing the laundry of the homeless and families in need for Free on Christmas Morning, as well as serving a FREE All You Can Eat Christmas Pancake Breakfast. With Christmas Gifts for everyone and toys for children in need! No one will be turned away!
It's going be a beautiful morning of love and Christmas! Join us!  Continue reading→