The 96-foot Christmas tree worth $120,000 was destroyed Monday morning in a fire outside the Westin South Coast Plaza hotel, according to the O.C. Register.
Firefighters got a call at 6:34 a.m. that the tree, a 96-foot white fir from Mt. Shasta, was burning, Costa Mesa fire spokesman Capt. Chris Coates said, according to the L.A. Times.
Firefighters responded shortly before 6:40 a.m. to a report of a Christmas tree fire outside the hotel, which is located in the 600 block of Anton Boulevard, the Fire Department said in a tweet, according to KTLA News.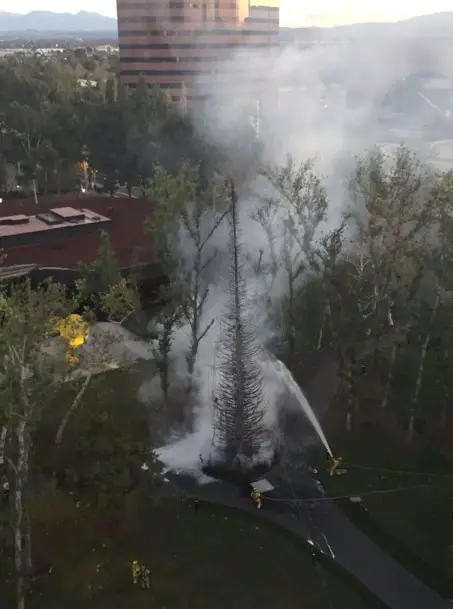 Firefighters extinguished the fire at about 7 a.m. Bare branches were all that remained of the tree, according to NBC News.
The 96-foot, 10-ton white fir Christmas tree cost $120,000 and was brought to the hotel Oct. 13 for the Nov. 19 tree lighting ceremony outside the hotel. It took approximately a month to decorate, according to the O.C. Register.
Officials are not certain if the fire was due to an electrical cause or arson.  The investigation is ongoing.