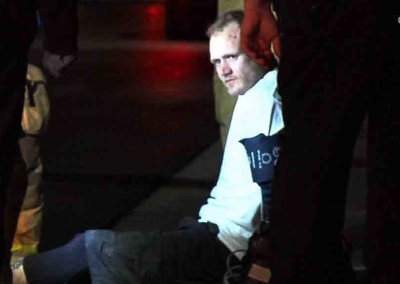 Picture courtesy of ABC News
Anaheim Police Department
FOR IMMEDIATE RELEASE: December 25, 2014
Released by: Lt. Bob Dunn, Contact: (714) 497-6330
Subject: Suspect Arrested in Anaheim Hills Residential Burglary
At about 11:30 p.m. on December 24, 2014, Anaheim Police were called to the 8300 block of E. Quiet Canyon Court for a burglary in progress.  A homeowner saw a male with a ski mask trying to break into a downstairs window of his home.  Before police arrived, the suspect fled on foot and was not located during an area search.
On December 25, 2014 at about 3:30 a.m., Anaheim Police were called to a residence in the 900 block of S. Country Glen Way reference a burglary in progress.  A homeowner found a male wearing a black ski mask inside his home.  The male resident confronted the suspect and a physical altercation ensued.  During the altercation, the suspect struck the male resident with a metal object – believed to be a wrench.  The male resident retrieved a shotgun kept inside the home.  As the suspect began to flee, the male resident fired one shot at the suspect.  The suspect continued to run and was quickly out of sight.
Responding officers established a perimeter and Anaheim Police Canines responded to the scene.  Shortly before 5:00 a.m., the suspect was located in the garage of a residence in the 1000 block of S. Country Glen Way.  He was taken into custody without incident.  The suspect identified himself as Jeremy William Bell, 29 (02-01-1985), of Fullerton.  Bell had injuries to his back that appeared to be related to the gunshot fired by the male resident.  Bell was taken to a local hospital for medical treatment prior to booking.  At the time of this writing, he is still being treated by medical professionals.  His injuries are not life threatening and he is expected to survive. Once cleared for booking, his charges will include robbery and additional charges as determined by the investigation.
The male resident did not require medical attention and is cooperating with the investigation.  Evidence was collected by Anaheim Police Crime Scene Technicians into Christmas morning.  Some of the evidence may include stolen property.  The investigation is continuing and Bell is suspected of being involved in both incidents.  Because the suspect has not yet been booked, his booking photograph is not available.
###
PUBLIC INFORMATION OFFICE
425 S. Harbor Blvd., Anaheim, CA 92805
(714) 765-1521 Fax: (714) 765-1554
Raul Quezada, Chief of Police