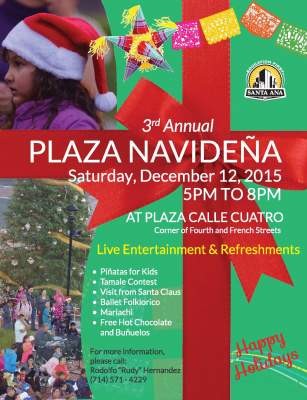 City of Santa Ana,Downtown Orange County
Community Alert: Third Annual Plaza Navideña / Tercera Celebración Anual de Plaza Navideña
The City of Santa Ana is excited to announce its Third Annual Plaza Navideña celebration on Saturday, December 12th at Plaza Calle Cuatro on the corner of Fourth and French Streets. The festivities will take place from 5:00 pm to 8:00 pm.
The event will include a visit from Santa Claus and candy filled piñatas for the children. There will be festive live entertainment including mariachi music, ballet folklorico, tamale contest, and the adorned 30 foot holiday tree for all to enjoy.
The event is free and open to the public. The City of Santa Ana has partnered with the Santa Ana Business Council, a downtown business organization, in the unveiling of the new "Plaza Calle Cuatro" sign during the event program. Light refreshments will be served. This free event is a great way to celebrate the holiday season with the community.
For questions regarding the event please contact Community Services Supervisor, Rudy Hernandez at (714) 571-4229 or via email at rhernandez5@santa-ana.org. To participate in the tamale contest, please contact Patty Lopez at (714) 647-5325 or via email at plopez@santa-ana.org. For more information please visit www.santa-ana.org/parks/upcomingevents/.
###