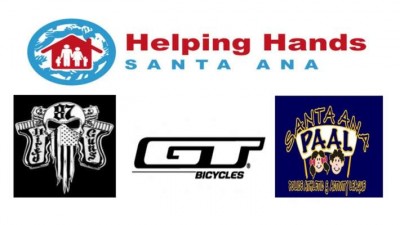 City of Santa Ana, Downtown Orange County
Community: 5th Annual Toy Drive Benefiting Needy Families of the Santa Ana Police Athletic & Activities League
Helping Hands Santa Ana, Hired Guns LEMC and GT BMX Bicycles will host their 5th Annual Toy Drive for the Santa Ana Police Athletic & Activities League (SAPAAL) to benefit those families in need during the upcoming holiday season.
Please support this great cause by contributing toys for children ages 6-12, gift cards, sports caps, skate boards, and sports gear for children ages 12-17, both boy and girls. They also accept cash and check donations. Please make checks payable to Helping Hands Santa Ana. Contributions are tax deductible.
The toy drive & "Toy Run" will be held on Saturday, December 5th from 1:30m – 7pm at the Laborers Union Hall, Local 652 at 1532 E. Chestnut Ave in Santa Ana. Join in the fun with tacos, a live band, DJ, a GT Bicycle and a Harley-Davidson Show, complete with trophies, and of course, Santa Claus will be there!
SAPAAL serves over 200 youth at their main location on McFadden & Sullivan in Santa Ana. They serve a total of 1,500 at risk youth throughout the City of Santa Ana.
Please contact Helping Hands Santa Ana with any questions at (714) 467-5432.
###