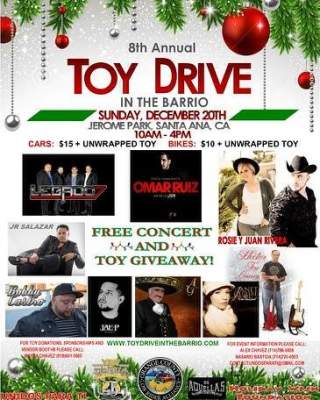 A holiday toy drive in the barrio will be hosted by Unidos Para Ti and the OC Lowrider Alliance at Jerome Park on Sunday, Dec. 20, from 10 a.m. to 4 p.m.
The event will include a free concert and a toy giveaway as well as a car show. If you are interested in entering your car there is a fee of $15 plus one unwrapped toy.  You may enter a bike for $10 plus an unwrapped toy.The event will feature:
Jr Salazar
Jae-P
 Legado 7
and Bobby Castro
Toy Drive in the Barrio was founded in 2008 by Edward Beas, President of 80/20 Marketing, Alex Chavez, President of Street Culture, Nasario Bastida, President of OC Lowrider Alliance and Junior Mendoza, President of Dubz United.
Sponsors of this event include the Holiday Wish Foundation, Motivation for Success, H.S Window Cleaning, and Mundo Nuevo Entertainment.
Questions can be directed to 818-852-1074 or contactunidosparati@gmail.com.  Click here to make a donation online.