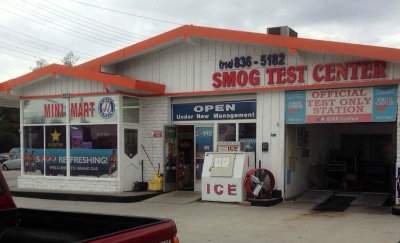 There are two gas stations at the corner of Grand Ave. and Santa Clara, in Santa Ana. One of them was robbed early Saturday morning, at 3:16 a.m., according to the O.C. Register.
The SAPD received a call after a man walked into the gas station mini-mart with a handgun and demanded cash from the cash register.  The mini mart clerk gave the robber an unknown amount of cash and the suspect ran out of the store and fled in a white sedan that was driven by a woman.
The strange part of this story is that neither of the gas stations at the intersection in question are generally open that late. But they are both popular as their gas prices are the cheapest in north Santa Ana.
An incident is listed on crimemapping.com indicating a robbery at 5:16 a.m. on the east side of the intersection, which is where the Grand Gas and Mini Mart is located, at 2231 North Grand Ave.  It is just north of the U.S. Post Station on North Grand Ave., not far from Sierra Intermediate School and the Northeast Santa Ana Little League's fields.
The 22 Freeway is located north of the gas station and the 5 Freeway is located south.  It would be fairly easy for a robber to head north, jump on the 22 and head to either the 5 Fwy. or go east to the 55 Fwy.
This robbery took place in Santa Ana's Ward 3, which is represented by Councilwoman Angie Amezcua.