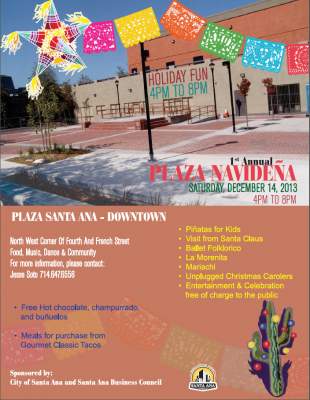 Santa Ana Community Alert
Plaza Navidena: First Annual City Sponsored Holiday Celebration
SANTA ANA, CA (December 10, 2013) – The City of Santa Ana is producing the First Annual Plaza Navidena celebration for the community to enjoy. In the spirit of the Holiday Season, the City is inviting the general public to enjoy each other's company, delicious food, and talented local performances. The event will take place this Saturday, December 14 from 4 p.m. to 8 p.m. at Plaza Santa Ana, which is in Downtown Santa Ana on the corner of French and Fourth Street.
Santa Claus will be providing a special visit starting at 4 p.m. Wonderful Mariachi, Christmas Carolers, Ballet Folklorico and La Morenita de California will be singing. Children will be invited to enjoy the breaking of candy filled Christmas piñatas. Wonderful bunelos, hot chocolate, and champurado will be made available to the community for free. Gourmet Food Truck Classic Tacos will be selling delicious food for all to enjoy.
The City is grateful with Santa Ana Business Council who partnered with the City to help produce this event.
This event is free and open to the public. For more information, please call Gerardo Mouet at (714) 571-4204 or email: gmouet@santa-ana.org
Plaza Santa Ana is located at:
Corner of French and Fourth Street.
####