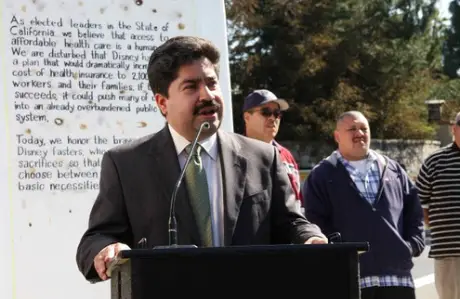 For Immediate Release: March 30, 2011
For More Information Contact: Carol Chamberlain – Office: (916) 319-2069, cell: (916) 804-5355
Solorio Bill to Reform Wasteful and Confusing Notice Requirements in Workers' Compensation System Clears Assembly Insurance Committee
AB 335, supported by business and labor leaders, simplifies communications to workers
SACRAMENTO – Assemblyman Jose Solorio (D-Anaheim), chair of the Assembly Insurance Committee, presented to members of his committee today AB 335, a bill to help injured workers navigate the often complex workers' compensation system by streamlining and clarifying benefit notices. AB 335 passed out of the Assembly Insurance committee with unanimous, bipartisan support.
"Reducing confusion, misunderstandings, disputes, and litigation will save the state and employers money," Solorio told the committee. "That is why the California Chamber and other business associations are joining together with labor groups to support this bill."
AB 335 is in response to a study conducted by the Commission on Health and Safety and Workers' Compensation. Their findings concluded that the number of notices to workers' compensation recipients has increased significantly, and the content of the notices has become so complex as to often be counter-productive to assisting employees.
"Injured workers want to get back to work. Getting them there requires clear communication every step of the way," says Solorio. "That means necessary information — at the right time — in plain language."
Click here to read the rest of this release.