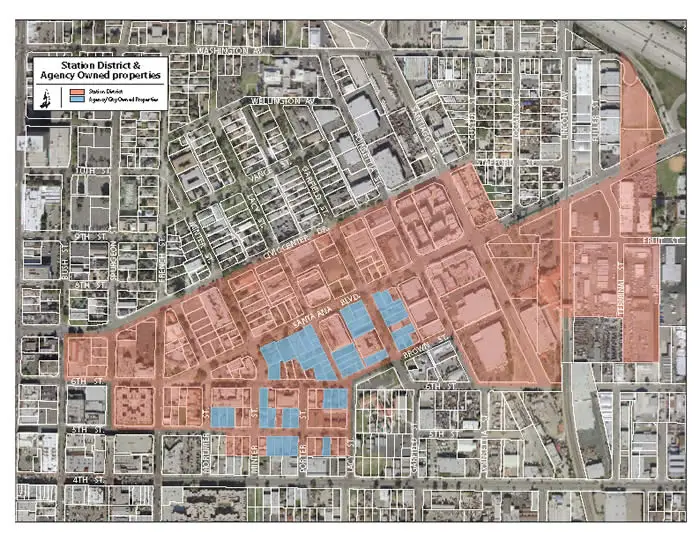 Click here for an audio link to Larry Mantle's "Santa Ana Gentrification Wars" segment of Air Talk.
KPCC's Larry Mantle is hosting a radio show about Santa Ana on March 28, at 6:30 p.m. You can get a free ticket by clicking here.  Mantle's program is entitled "Santa Ana's Gentrification Wars."  KPCC Radio 89.3 is also known as National Public Radio NPR.
The show will run from 6:30 p.m. – 7:30 p.m., at Libreria Martinez, which is located at 216 North Broadway, in Santa Ana .
Here is how Mantle is describing the show on his website:
Does downtown Santa Ana need a face lift? The Santa Ana City Council has proposed multiple projects to upgrade housing and bring new business activity to the area. But some very vocal and active groups oppose this redevelopment. They argue that these changes will push out family owned businesses and negatively transform the character of downtown Santa Ana.
On March 15, AirTalk goes "on the road" to Libreria Martinez in Santa Ana to debate the pros and cons of that city's revitalization process. Will the refurbishing of downtown Santa Ana improve or hurt the quality of life and well-being of residents there? Join Larry Mantle and guests for an in depth discussion about Santa Ana's gentrification wars.
The public is invited to attend. ADMISSION IS FREE. But RSVPs are required.
Guests:
Eric Altman, Executive Director of OCCORD, Orange County Communities Organized for Responsible Development a community-based non-profit organization that advocates for the rights of Orange County's working families
Michele Martinez, Santa Ana City Councilwoman – Ward 2; Human Resources and Education Foundation Director
Carlos Bustamante, Santa Ana Councilman – Ward 3; Director of Administration at Orange County Public Works
Carolina Sarmiento, member of the Centro Cultural de Mexico, a longtime Santa Ana nonprofit that figures into the gentrification game
Sponsor: AirTalk
Editor's Notes:
It is obvious that Mantle has no clue about Santa Ana.  Our Downtown has already had a face lift!  The project he is thinking of is likely the Station District, which has been derailed by a lawsuit.  The land the city bought in that area was bought with grants for affordable housing.  In fact the Station District included a lot of affordable housing.
OCCORD is a union-backed organization that is funded in part by Alfredo Amezcua, who lost badly last year when he challenged Mayor Miguel Pulido.  It is ironic that they are focusing on gentrification when their top two executives are white males.
The reality is that our city has seen a huge influx in the last few years of Vietnamese Americans.  At the same time many white residents have died or moved out.  We are the most diverse city in Orange County – so arguing about gentrification seems rather silly.