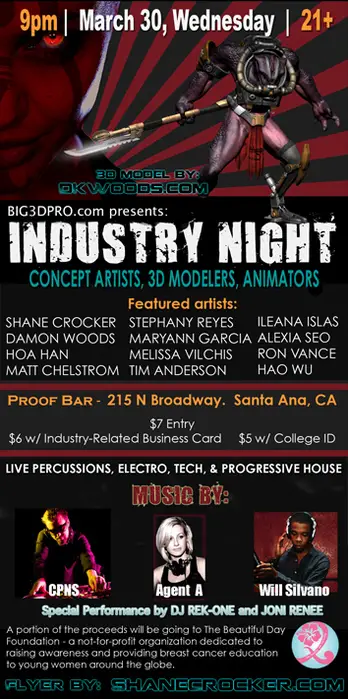 Big3DPro.com presents "INDUSTRY NIGHT," a party/networking event that is energized by thumping beats, House music, live percussion, 3D art projected on the walls of the bar, and talented artists getting to know each other. This will be an amazing party with lots of talented artists. It's a great chance to network with other artists, musicians, producers, and 3D designers.
Proof is right next to Memphis Bar, Gypsy Den, and The Crosby. A portion of the proceeds will be going to The Beautiful Day Foundation (a not-for-profit organization dedicated to raising awareness and providing breast cancer education to young women across the globe).
Entry: $7, or $6 with industry-related business card.  Students: $5 with college I.D.
Time: Wednesday at 9:00pm – Thursday at 2:00am
Location: Proof Bar at the Santa Ana Arts Distict
215 North Broadway
Santa Ana, CA
More Info: www.Big3DPro.com.  Click here to RSVP on Facebook.
If you are an artist, student or professional, and would like to display your portfolio at the next Industry Night simply email your portfolio links to: Big3DPro@gmail.com.
We are currently viewing portfolios in the fields of Concept Art, Ilustration, Game Design, Animation, Industrial Design, Environment Design, Motion Graphics, and VFX.  Thank you and we look forward to hearing from you!
All portfolios are subject to evaluation. It is our mission to show high-quality work.