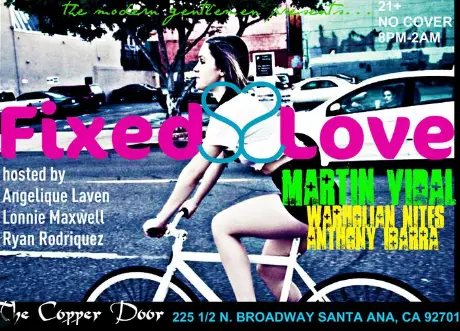 The Modern Gentlemen and Social Soirée presents…
Social Soirée, the fastest growing weekday night in OC, proudly brings to you: "Fixed Love," on Wednesday night, March 30, from 8 pm to 2 am, at the Copper Door, located at 225 1/2 N. Broadway, in Downtown Santa Ana.
Come in to Social Soirée on your Fixie and display your bike on the stage. We want to show our love, support and pay homage to Fixed Gear riders. Like always there will be amazing brew on tap, the most beautiful and lively crowd in OC and tunes for feet to move to.
***Please keep in mind there will be no riding INSIDE the club but we encourage everyone to bring their bikes in and display them.***
We can't wait to see the turn out and all of the Fixies!
Martin Vidal will also be debuting his newest remix of Adele's "Rolling in the Deep!" The first 20 people to sign up on the Social Soirée's emailing list will receive a CD with 5 tracks produced by Martin Vidal.
Hosted by:
Angelique Levan
Lonnie Maxwell
Ryan Rodriguez
Music Selector: Martin Vidal, http://soundcloud.com/martinvidal
Polaroids: Warholian Nites, http://www.facebook.com/WarholianNitesPolaroids
Roaming Photography: Anthony Ibarra , http://www.facebook.com/AnthonyIbarraphotography
21+, NO COVER, 8PM-2AM
Click here to RSVP on Facebook.