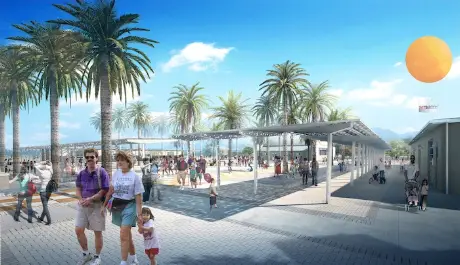 FOR IMMEDIATE RELEASE: MARCH 28, 2011
CONTACT: JENN STARNES, 949-724-6574
Great Park Seeks Artists-in-Residence

Park Invites Artists to Participate in Activating New Arts Complex
IRVINE – The Orange County Great Park has announced an online "open artist call" seeking public artists from all creative arenas to apply for the first Great Park Artist-in-Residence Program. Four selected artists will be offered a stipend and studio space at a new studio, gallery and outdoor performance and event space called the Palm Court & Squadron Complex.
Resident Artists will be developing site-specific public projects showcasing visual, literary and performing arts. The public will be able to witness the creative process and interact with artists during open studio hours. The Artist-in-Residence Program debuts this July in two newly renovated former squadron buildings linked by a palm court. The buildings will also house the Great Park Gallery, and are a prominent feature of the Western Sector Park Development program. Deadline to apply online is April 8, 2011, and applicants can visit www.ocgp.org for application information.
"With the initiation of the Artist in Residence Program we are delivering a significant new creative public space to the people of Orange County," said Beth Krom, Chair of the Orange County Great Park Corporation. "This program will foster innovative ideas of what a metropolitan park can be, bring the public into the artistic process, and help create unique experiences for all Park visitors."
Artists will be chosen through a competitive and transparent selection process administered by Arts Orange County, the county's officially designated local arts agency and state-local partner. A panel of public arts experts — including Joseph Lewis III, Dean of the UCI School of Fine Arts and Sylvia Turner, a noted choreographer — will review applications based on artistic quality, potential community impact, professional development and compliance with selection criteria.
The review panel will recommend artists for approval to the Great Park Board of Directors. Selected artists will receive a $7,500 stipend. The residency will conclude with submission of detailed plans for indoor and outdoor installations and/or a public event at the Great Park.
Artists wishing to submit qualifications are invited to apply online by clicking here.
About the Great Park
The Orange County Great Park, with its 1,347-acre master plan, is the focal point of the redevelopment of the publicly-owned portion of the 4,700-acre former Marine Corps Air Station, El Toro. The Great Park is currently 27.5 acres and includes an iconic tethered helium balloon that rises 400 feet in the air, providing an aerial view of Park development. A $70 million development plan to expand the Park to more than 200 acres is currently underway. The plan will build out a core section of the Park for the most immediate and wide-ranging public benefit, including the initial components of the sports park, a 114-acre agricultural area, and an art and culture exhibition space. For more information, please go to www.ocgp.org
###