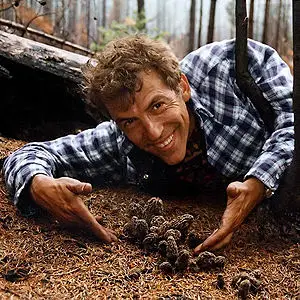 Back to Natives presents Gregg Miller, a wildlife biologist who has been foraging for wild mushrooms for over 30 years, on April 2, from 9 am to noon.
This is an indoor course for beginning mushroom identification. Become familiar with the identification keys in David Arora's Mushrooms Demystified. The course is designed for the intelligent layperson. We will use commercially grown species to learn various identification characteristics and techniques. Bring any fresh wild mushroom finds to the class.
A copy of Mushrooms Demystified by David Arora is required. Some local libraries have copies. If you plan to hunt/identify mushrooms you will want your own copy. The program will be held at the Santiago Park Nature Center at 600 E. Memory Lane in Santa Ana. For info email us at info@backtonatives.org. The Fee is $15.
New Public Programs in Santa Ana!
Back to Natives is partnering with Santa Ana Parks, Recreation and Community Services Agency to provide public programs at the Santiago Park Nature Center beginning in March, 2011. Community members from throughout Orange County will have an opportunity to enroll in classes on a variety of topics. The Nature Center is located at 600 E. Memory Lane in Santa Ana.
How to register:
1. Download the Programs & Classes Brochure on the City of Santa Ana Parks & Recreation Website – Spring classes will be posted soon!
2. Complete the Registration Form
3. Mail or Walk-in the registration form with payment to: PRCSA, 1825 W. Civic Center Drive, Santa Ana, CA 92703
4. For more information please call the City of Santa Ana at (714) 647 – 5307. If you're having trouble registering for a class, please email Back to Natives to let us know!