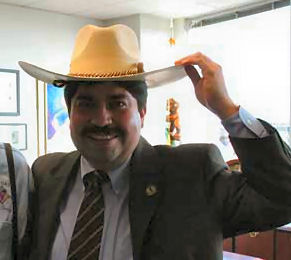 State Assemblyman Jose Solorio issued a statement today regarding the filing of a lawsuit "asking for an injunction to stop the current sale of the Orange County Fairgrounds."
The suit was filed on behalf of State Senator Lou Correa, State Assemblyman Jose Solorio, former Costa Mesa City Councilwoman Katrina Foley and the Orange County Fair Preservation Society (OCFPS).
Solorio listed a few reasons to oppose the sale of the O.C. Fairgrounds, as follows:
Why was there no appraisal done to learn the fair market value of the property?
Why weren't the requirements of the original legislation and the Department of General Services (DGS) own bid documents followed?
How do we know the bid process was fair when the terms of the deal favor one bidder above all others? This whole bid process has been flawed.
According to Solorio, the Orange County Fairgrounds generates $180 million annually in economic activity, including hundreds of jobs.
What sort of jobs is he talking about?  Janitorial?  Carnies?  Ticket booth operators?  These don't seem like very good jobs, and they are temporary at that.
I have been to the Fair a few times over the past few years.  My kids find the animals boring and just want to ride on the overpriced, rickety carnival rides.  The food is totally unhealthy and disgusting and way overpriced.  The carnies all look like meth addicts!
We already have two zoos in Orange County – the Santa Ana Zoo and the Irvine Zoo.  Both feature farm animals.  Do we really need the OC Fair?  Really?
Let's face it – Orange County is no longer even remotely an agricultural county.  We just aren't.  Most of our farms were paved over years ago.  Kids today don't know one end of a cow from the other, and they could care less.
The O.C. Great Park, in Irvine, does have a farm, that they use for educational purposes.  Why not move the O.C. Fair there?  It makes sense.  They have the room to accommodate the Fair.
The land the Fair sits on, in Costa Mesa, is prime real estate.  Why not sell it and use that money to pay down California's debt?
And why is Solorio spending so much time on this?  Is the Fair even in his Assembly District?  I don't think so.  Odd.