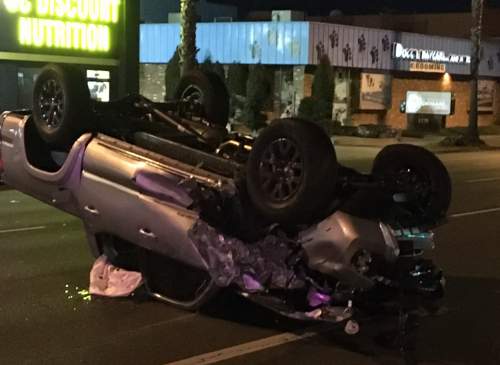 COSTA MESA, Calif. (Feb. 21, 2021) — The Costa Mesa Police Department has arrested a man suspected of DUI after striking a pedestrian and second vehicle earlier this morning. 
Today, Feb. 21, 2021, at approximately 2:07 a.m., officers responded to a vehicle versus pedestrian traffic collision.  A driver in the first vehicle ran a red light going south on Newport Boulevard at 19th Street and struck a pedestrian at Harbor Blvd., then collided with a second car at Harbor Boulevard before rolling over. 
The pedestrian and the driver of the second vehicle were transported to a nearby hospital.
There are no fatalities in this incident. The driver, Herman Martinez, 22, Maywood, in the first vehicle did not suffer injuries and was subsequently arrested for DUI.
MAIT was called out and a Sig Alert was put out.
Presently, northbound Newport Boulevard is open. Southbound Newport Boulevard remains closed until approximately 10:00 a.m.