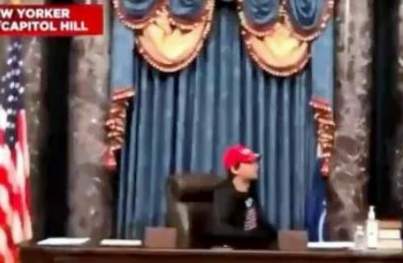 Christian Secor, 22, a UCLA student from Costa Mesa, has been arrested by the FBI due to his alleged participation in the attack on the U.S. Capitol.
Secor is facing five federal offenses after he rioted in the Capitol and was seen inside the building, on the Senate floor and also sitting on former Vice President Mike Pence's chair in the Senate chambers during the insurrection, according to CBS News.
Footage and images recorded during the riot at the Capitol show Secor forcing his way past at least three police officers blocking a set of double doors leading into the building while wearing a red hat bearing the slogan "Make America Great Again," according to the O.C. Register.
Secor broadcasted a livestream from the Capitol during the riot using a fake name of a man who murdered six people in Isla Vista, back in 2014. He had bragged that he would not be caught!
Secor was repeatedly accused of inciting racism through comments and tweets about immigrants and Jews last year at UCLA where he also founded a student group called America First Bruins at the university. Secor has openly espoused white supremacy views online as well.
Secor is being held without bail after his first hearing at the federal court in Santa Ana.
Secor is among more than 200 defendants accused of participating in the attack on the U.S. Capitol, which caused dozens of injuries and resulted in the death of a Capitol police officer.
The FBI has posted pictures of the Capitol riot Trumpers online. Several Orange County residents have already been arrested and more are likely to be charged soon.