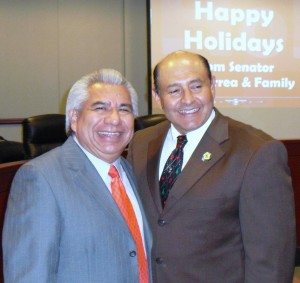 Santa Ana Mayoral Candidate Alfredo Amezcua and State Senator Lou Correa
State Senator Lou Correa's Holiday Party was a big hit today.  The party was held at the board room of the Rancho Santiago Community College District.  A Correa staffer estimated that over 500 people attended throughout the evening.
Correa recognized his Young Senators – a group of high school students that Correa mentors.  Their families and friends were in attendance along with many elected officials and political candidates.
There were quite a few Republicans in attendance, including former state legislator Todd Spitzer; Anaheim Councilman Harry Sidhu; OC GOP Hispanic Outreach Coordinator Manny Padilla; former Santa Ana Councilman John Acosta and his wife; and past Assembly candidate Otto Bade. Continue reading→