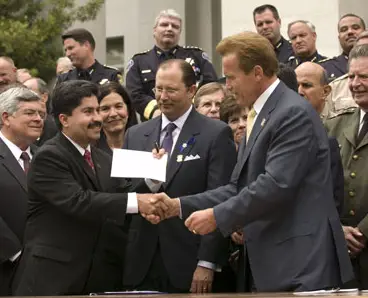 For Immediate Release
Nov. 10, 2009
For More Information Contact:
Carol Chamberlain – Office: (916) 319-2069
Cell: (916) 804-5355
Solorio Applauds Governor for Signing Historic Water Bond Bill
Assemblyman's Dedication to Water Issue Resulted in Key Votes
SACRAMENTO – Assemblyman Jose Solorio (D-Anaheim), a vigorous supporter of legislation to save the Delta and ensure water sustainability for all Californians, congratulated Governor Schwarzenegger for signing the Legislature's historic, comprehensive water bill package that outlines California's water future.
The Governor was in Friant yesterday signing SB 2 X7, a bill that authorizes an $11.1 billion water infrastructure bond on next November's statewide ballot. (For bill summaries, see attached document).
Schwarzenegger called on the Legislature to meet in an extraordinary session to address California's water crisis early in October. Assemblyman Solorio worked tirelessly in the ensuing weeks to garner support — and votes — for the resulting bipartisan water package.
"I want to commend Assemblyman Solorio for his pivotal role in getting this historic legislation approved," Jeffrey Kightlinger, General Manager of the Metropolitan Water District of Southern California said. "Jose has been a true leader in addressing water issues – not just for Southern California, but for the entire state and its economy."
FILE: Assemblyman Solorio and Governor Schwarzenegger addressed an enthusiastic crowd of farm workers and their families at a rally supporting a water projects bond.
Solorio is Chair of the Select Committee on Regional Approaches to Addressing the State's Water Crisis, and served on the Legislature's Joint Water Conference Committee. He joined with assemblymembers Anna Caballero and Jared Huffman to work with Assembly Speaker Karen Bass, Senate President Pro Tem Darrell Steinberg and other leaders at the Capitol to help negotiate the bipartisan water package.
"If I helped to persuade colleagues of the merits of the water bill package, I'm grateful they listened. It was important for the desperate interests to know the provisions in the bills that will benefit everyone," Solorio said after the vote. "I saw my role in this as simply articulating the common ground and bringing Southern California's interests forward."
As chair of the "New Democrats," a pro-job caucus within the Assembly, a member of the Latino Caucus and a member of the Assembly's Southern California delegation, Solorio was in the unique position to garner cross-over support for the water bill package through extensive outreach.
"The package represents the most significant water infrastructure and policy advances in decades," Solorio said. "But our work is just beginning. Now we need to reach out to California voters with the same information that convinced members of the Legislature that this is California's best roadmap to water sustainability and economic growth." .
State Assemblyman Jose Solorio is the Chair of the Assembly Insurance Committee and also serves on the Assembly Education, Transportation, and Appropriations Committees. He represents the Sixty-Ninth Assembly District, which includes the cities of Anaheim, Garden Grove, and Santa Ana. For more information about Assemblyman Solorio, visit www.assembly.ca.gov/solorio.
________________________________________
Capitol Office: State Capitol, P.O. Box 942849 • Sacramento, CA 94249-0069
Phone: (916) 319-2069 • Fax:(916) 319-2169
District Office: 2400 East Katella Avenue, Suite 640 • Anaheim, CA 92806
Phone: (714) 939-8469 • Fax:(714) 939-8986
E-Mail: Assemblymember.Solorio@assembly.ca.gov
Web Site