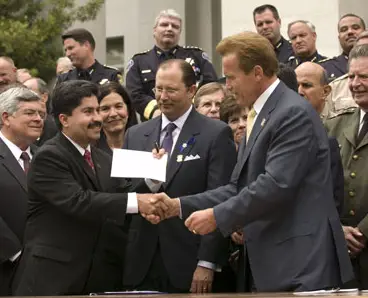 For Immediate Release
Nov. 10, 2009
For More Information Contact:
Carol Chamberlain – Office: (916) 319-2069
Cell: (916) 804-5355
Solorio Applauds Governor for Signing Historic Water Bond Bill
Assemblyman's Dedication to Water Issue Resulted in Key Votes
SACRAMENTO – Assemblyman Jose Solorio (D-Anaheim), a vigorous supporter of legislation to save the Delta and ensure water sustainability for all Californians, congratulated Governor Schwarzenegger for signing the Legislature's historic, comprehensive water bill package that outlines California's water future.
The Governor was in Friant yesterday signing SB 2 X7, a bill that authorizes an $11.1 billion water infrastructure bond on next November's statewide ballot. (For bill summaries, see attached document).
Schwarzenegger called on the Legislature to meet in an extraordinary session to address California's water crisis early in October. Assemblyman Solorio worked tirelessly in the ensuing weeks to garner support — and votes — for the resulting bipartisan water package. Continue reading→