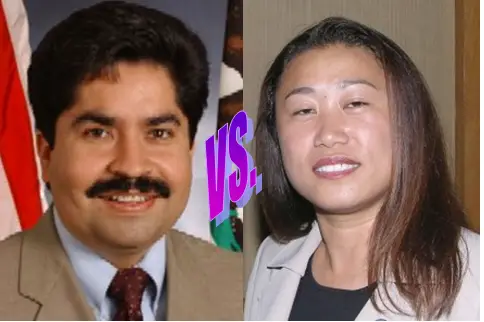 In two years, Supervisor Janet Nguyen, a Republican, is going to have to run for re-election.  She only won by three votes, back in 2007.  She won a full four year term in 2008.  However, since then she has antagonized voters numerous times. 
In her latest gaffe, she has upset most of Little Saigon by taking over this year's Black April event, which commemorates what happened when Vietnam fell to the communists and the people had to flee, many of them arriving here in California.

Rumor has it that popular Assemblyman Jose Solorio, who is a Democrat, will be challenging Nguyen for the First Supervisorial District, in 2012, when, coincidentally, he will term out of the State Assembly.
Solorio represents the Cities of Anaheim and Santa Ana, in the State Legislature.  Those same cities are in the First Supervisorial District. 
A few years ago, State Senator Lou Correa left the State Assembly and won the First Supervisorial District.  He left for the State Senate a couple years later and Nguyen took the seat.
In that race, the Democrats put carpetbagger Tom Umberg on the ticket and he didn't even make the run-off, against Nguyen.  She ended up beating Trung Nguyen, by the aforementioned three votes.
Solorio has won by huge margins in each of his Assembly races.  He previously served on the Santa Ana City Council.  His wife is a public school teacher in Santa Ana.
Nguyen's husband, Tom Bonikowski, owns a Lee's Sandwiches franchise in Stanton that has received over fifty violations from the Orange County Health Department.  He works, ironically, in food safety for Sodexo.  Nguyen pulled strings to get him appointed to the Garden Grove Planning Commission.
I don't think Solorio will have any trouble trouncing Nguyen.  The only question in my mind is how big a margin will he win by?
Nguyen might be better served conceding the Supervisorial seat to Solorio and running for the State Senate.  Senator Correa will be terming out of the State Senate in 2014. 
Nguyen's ambitions however are limitless.  This year she is even running for the Republican Party of Orange County's Central Committee, in the 69th Assembly District.  This is quite unseemly given that she is the Chairman of the Orange County Board of Supervisors.  One would think that she would have more important things to do than dabble in obsure partisan political offices.