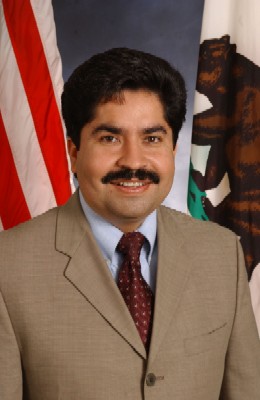 For Immediate Release: March 17, 2010
For More Information Contact: Carol Chamberlain – Office: (916) 319-2069, Cell: (916) 804-5355
Solorio Praises Decision to Reject Bids to Sell the OC Fairgrounds
SACRAMENTO, CA – In a letter to Governor Schwarzenegger dated today, Ronald Dietrich, acting director of the California's Department of Public Services, stated that he has "rejected all bids" for the Orange County Fairgrounds.
FILE: Assemblyman Solorio official portrait. Assemblyman Jose Solorio, (D-Anaheim), author of legislation to stop the sale of the Orange County Fairgrounds, was pleased with the announcement. "We knew from the beginning that the process was not designed to garner the highest bid, and the local community didn't want the fairgrounds sold at all," Solorio said. "This is good news for the state, Costa Mesa, and all Orange County residents who enjoy the OC Fairgrounds.
The Department of General Services was authorized to conduct an auction for the fairgrounds through AB X4 22, legislation enacted to balance the 2009-2010 budget. The proposed sale ignited a groundswell of local opposition and prompted Assemblyman Solorio to author his bill.
Costa Mesa City Council member Katrina Foley, a prominent figure in the stop-the-sale movement, praised Solorio for his efforts on all fronts to help the local community keep the fairgrounds. "It's a bright day for Californians," she said. "Constituents can be heard and can make a difference."
The rejection of the bids is not the final chapter in the OC fairground sale. Diedrich said he is still committed to selling the fairgrounds and will look for "alternative means" to achieve that goal. One option could be selling the fairgrounds to local OC governments.
State Assemblyman Jose Solorio is the Chair of the Assembly Insurance Committee and serves on the Assembly Education, Transportation, and Appropriations committees. He represents the Sixty-Ninth Assembly District, which includes the cities of Anaheim, Garden Grove, and Santa Ana. For more information about Assemblyman Solorio, visit www.assembly.ca.gov/solorio.
________________________________________
Capitol Office: State Capitol, P.O. Box 942849 • Sacramento, CA 94249-0069
Phone: (916) 319-2069 • Fax:(916) 319-2169
District Office: 2400 East Katella Avenue, Suite 640 • Anaheim, CA 92806
Phone: (714) 939-8469 • Fax:(714) 939-8986
E-Mail: Assemblymember.Solorio@assembly.ca.gov
Web Site: www.assembly.ca.gov/solorio