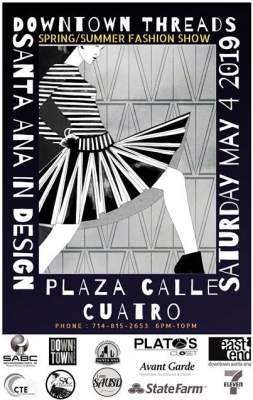 Community: DOWNTOWN THREADS: SANTA ANA IN DESIGN SPRING/SUMMER FASHION SHOW COMMUNITY ENRICHMENT, YOUTH TO PROFESSIONAL PIPELINES, INSPIRED DESIGNS

SANTA ANA, CA – May 4, 2019 – Downtown Threads, not your typical fashion show will create NEW design rules this season. Santa Ana In Design Spring/Summer Fashion Show 2019 highlights Santa Ana's creativity and professional pipelines. On the night of a bustling Downtown First Saturday Artwalk, a set of amazing local fashion designers from junior through professional will hold their first annual runway show in Downtown Santa Ana. Calle Cuatro Plaza on the corner of 4th and French, will be transformed into a hard-hitting fashion forward catwalk.
The show will have almost 20 designers who will be taking the stage for S.A.I.D in an effort to showcase their designs. The event is dedicated to bringing together different designers from all types of skill levels belonging to various age groups and backgrounds. These designers will be presenting and or collaborating in various categories, which include Junior, Collegiate, and Professional Collections. Design teams are lead by fashion leaders at SAUSD and SAC, educators Jennifer Acuna(SAUSD Fashion) and Kyla Benson (SAC Fashion).
The emcee of this inspiring event is also a designer himself best known for his creativity, self-expression, and ingenuity, Vic Carmona, is a local self-taught costume designer. He started designing costumes in 2009, since this time Carmona's designs have been featured on America's Next Top Model Season 10, as well as in an IMBd for a series tv series. Vic Carmona created an incredible, one of a kind, 10 ft Victorian dress for the grand opening of a new football stadium for the Viking's Purple Gala, which can be seen on Instagram at Official costumes. The event will also feature live performances by Dahlia Champagne, Rhea Della Vera, Jazlyn Slayer and Arianna Slayer and DJ Steve.
Santa Ana In Design, S.A.I.D. is a fashion show that is known for their focus on collaboration of fashion and design, for the community by the community. the Junior Re-cyclable Design Group from Santa Ana High School, Santa Ana College Fashion Design and Merchandising Program, Plato's Closet is number one ranked teen resale franchise entrepreneur magazine, Post-Apocalyptic designs Fabulously Wasted, Stussy, R Threadz with Lalia Lupe, Jazmin Sanchez Modern Day Disney Fairytale, Elton Louie modular utility wear brand, and Avant Garde design by Official Costumes.
This fashion show is intended to highlight the designs of people from all age groups and skill levels: under-18 to professional collections within the Santa Ana community. The fashion show will also include a variety of donated items that have been loan by the local businesses in Downtown Santa Ana. Come check out Downtown Threads this season were Santa Ana will disrupts the design market by creating their own aesthetic.
WHAT: Highlighting designs by a pipeline of local designers of a variety of skill levels from junior through professional collections.
WHERE: Downtown Santa Ana's Calle Cuatro Plaza
WHEN: First Saturday 4th of May from 6-10pm
COST: Free Event
About Downtown Threads
Santa Ana In Design S.A.I.D. is not your typical everyday fashion show. It is a community gathering as well as a fashion show with very ambitious goals. It was founded in the year 2018. The main focus of S.A.I.D. is to inspire people to become creative, to be enthusiastic to design and to become the change that they want to see in the world that they inhabit. The fashion show's main focus remains on community and change to support local business owners and organizations in an effort to challenge the status quo of the fashion community and to show them how it is fun and rewarding to work together as a team to inspire others. S.A.I.D. believes that by giving back to the community, you open up a world of possibilities.
Further information on Downtown Threads can be found on:
https://www.eventbrite.com/e/downtown-threads-santa-ana-in-design-tickets-60698343379