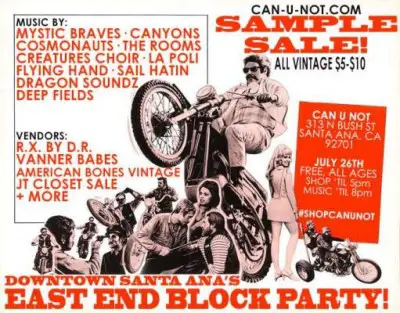 Downtown Santa Ana's East End is hosting their first annual Block Party  on July 26, 2014, from 12 noon to 8 pm.  The event will be hosted by Can U Not Vintage, the spot for rad vintage finds and unique contemporary clothing & accessories at 206 E Fourth St, in Santa Ana.
They will have an all vintage on sale for $5-$10. They will also have live bands, vendors and choppers. They're also offering FREE motorcycle parking.

Music by Mystic Braves, Canyons, Cosmonauts, The Rooms, Creatures Choir, La Poli, Flying Hand, Sail Hatin, Dragon Soundz, and Deep Field.  Vendors include R.X. by D.R., Vanner Babes, American Bones Vintage, JT Closet Sale and more.
East End Partners are revitalizing the Downtown Santa Ana area formerly known as The Fiesta Marketplace into an urban oasis for upcoming restaurants, retailers, and entertainment venues. The newly branded East End district dissects historic 4th Street between 3rd and 5th, and French and Bush. The company has nearly completed its multi-million dollar revitalization and rebranding project for the 140,000 square foot retail, office, and entertainment center located in the heart of Downtown Santa Ana.
East End welcomes local residents and travelers alike, making it an ideal destination for people looking to experience art, unique dining, hip retail and entertainment. The 4th generation Santa Ana property owner said it's an opportune time to revitalize an important piece of Downtown Santa Ana. "The center will now be known as "The East End" in our effort to be more welcoming to all. East End visitors, customers, and tenants reflect Santa Ana's great diversity of races, colors, religions, cultures and sexual orientation. We are proud of making East End a place for everyone in our community. The East End will attract a new wave of hip, cutting-edge brands and establishments. "With our renovation and repositioning of the retail center, we will be bringing vitality back to the area."