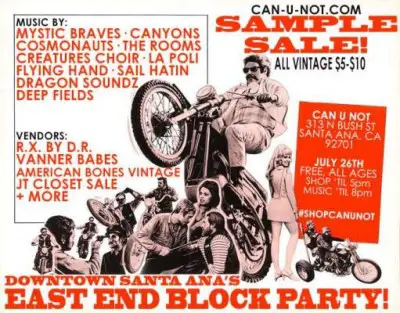 Downtown Santa Ana's East End is hosting their first annual Block Party  on July 26, 2014, from 12 noon to 8 pm.  The event will be hosted by Can U Not Vintage, the spot for rad vintage finds and unique contemporary clothing & accessories at 206 E Fourth St, in Santa Ana.
They will have an all vintage on sale for $5-$10. They will also have live bands, vendors and choppers. They're also offering FREE motorcycle parking.
Music by Mystic Braves, Canyons, Cosmonauts, The Rooms, Creatures Choir, La Poli, Flying Hand, Sail Hatin, Dragon Soundz, and Deep Field.  Vendors include R.X. by D.R., Vanner Babes, American Bones Vintage, JT Closet Sale and more.