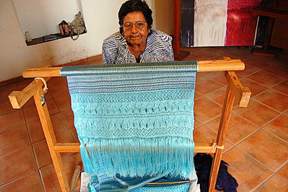 City of Santa Ana, Downtown Orange County Community Alert
SANTA ANA PUBLIC LIBRARY TO SHOWCASE TRADITIONAL DRESSES AND REBOZOS (SHAWLS) FROM VARIOUS STATES OF MEXICO
SANTA ANA, CA (April 30, 2013) – On May 4th, the Santa Ana Public Library and the Santa Ana Parks, Recreation, and Community Services Agency will launch its Third Annual "State of My Heart" exhibit. This year's theme will focus on traditional dresses and rebozos (shawls) from the various states of Mexico. The exhibit exemplifies the cultural heritage of Mexico and celebrates the artistry of its people. This eclectic selection of dresses and rebozos will be on display at the Santa Ana Public Library, Second Floor, Meeting Room A, from May 4th to May 18, 2013.
The exhibit will be open to the public from Monday – Thursday, 10:00 a.m. – 8:00 p.m. and Friday and Saturday, 10:00a.m. – 5:00 p.m. To view the exhibit, please inquire at the information desk. Admission is free.
THE SANTA ANA PUBLIC LIBRARY IS LOCATED AT:
26 CIVIC CENTER PLAZA (corner of Civic Center and Ross)
******************************************************************************************************************************************
LA BIBLIOTECA PUBLICA DE SANTA ANA PRESENTA EXHIBICION DE VESTIDOS Y REBOZOS TRADICIONALES DE VARIOS ESTADOS DE MEXICO
SANTA ANA, CA (30 de Abril, 2013) – El 4 de mayo, la Biblioteca Pública de Santa Ana y la agencia de Parques, Recreación y Servicios Comunitarios lanzará su tercera exposición anual de arte de la serie "Estado de mi Corazón." Este año la exhibición se honra en presentar una colección de vestidos y rebozos tradicionales de los varios estados de México. Esta exhibición ejemplifica el patrimonio cultural de México y es un homenaje al ingenio artesanal de su gente.
Esta exhibición ecléctica estará abierta al público desde el 4 de mayo hasta el 18 de mayo de 2013, en la Biblioteca Pública de Santa Ana, segundo piso, Salón A.
La entrada es gratis y podrá visitar la exposición de lunes a jueves, desde las 10:00 am hasta las 8:00 pm y viernes y sábado, 10:00 -5:00 p.m. Para más información pregunte en el escritorio de información.
LA BIBLIOTECA PÚBLICA DE SANTA ANA SE ENCUENTRA EN:
26 Civic Center Plaza (esquina Civic Center y Ross)
####
For full details, view this message on the web.