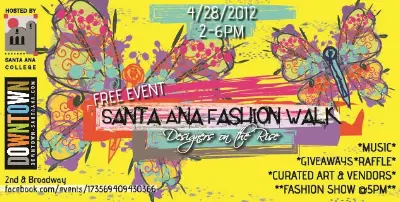 Don't miss the Santa Ana Fashion Walk, this Saturday, April 28, from 2:00pm until 6:00pm.
Put on your best spring outfit and bring along your friends, come out and enjoy the 1st Annual Santa Ana Fashion Walk right in the heart of Downtown Santa Ana. Enjoy music, fashion show, and a bit of shopping.
Preview the collections of your local up and coming designers through a fashion show. Have to have any of the products? Well, you'll also have the chance to purchase the handmade, one of a kind items. There will also be raffles and free giveaways, so do not miss out!
The FDM department of Santa Ana College has made this all possible. So, why not come out and support the work of hardworking students and local businesses.
It's the event of the season and the first ever Santa Ana College Fashion Event in Downtown Santa Ana. You won't want to miss out!