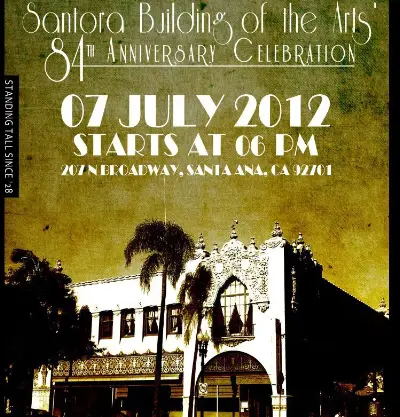 On Saturday, July 7th, the Santora Arts Building will celebrate 84 years with a 1920's-inspired themed celebration! This will kick-off a month-long celebration highlighting the history of the building from 1928 to the present.
Showcased will be a dazzling array of FINE ART, MUSIC, CARS, FILM , and FASHIONS of a bygone era, as well as a tour of old-time "speakeasys" like Proof, that still stand today!
JULY 7 – A ROARING 20'S ERA OPEN HOUSE featuring Live Music, Fine Art, Deco-inspired Costumes and other nostalgic touches. Meet the 2012 King of the Santora!
6pm 1920's Boudoir Fashion Show -Presented by D & A Street Runways, "featuring students from Santa Ana College"
7pm -Santora Award Ceremony
7:30pm – Toast and Cake Cutting – Cake by Moya's Bakery
8:30pm -Live Music by Hedgehog Swing Band And Artificial Integrity – OCHSA Students
** BUST LOOSE on the SANTORA dance floor **  Featuring DJ Court Pedestrian
* Come as your favorite silent film star or 1920's era legend! *
JULY 21- A SPECIAL VIP EVENT….STAY TUNED FOR MORE DETAILS!
——————————–
Visit our Art Galleries and Art Studios
Basement Galleries
ste B4 – Green Door Gallery
ste B6b – The Art Bar
ste B6a – Suzie Voung
ste B6a2 – Chuntana Art Society at R.E.D. Gallery
ste B7b – Avantgarden – The Art Gallery
ste B10 – Seven 1Four Underground Studio
ste B11 – Studio del Sotano
Street Level
GCS
Mezzanine
Atilano Salon and Gallery
2nd Floor
ste B – Bee Regal Gallery
ste E – Raven Studios
ste E – Gallery 207
ste G – Joseph Hawa
ste I – Tweena's Tunes
ste K – Crescendoh
ste Q – SAC Art Gallery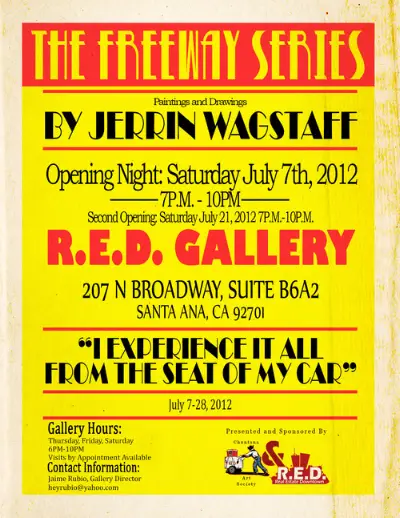 The July 7, 2012 Downtown Santa Ana Art Walk is also taking place this Saturday night.  Here are a few event highlights:
AVANTGARDEN is celebrating with lots of new work and new artists: jewelry artists Margaret Aden and Douglas Brett, and abstract painter Elena Bulatova!

OCCCA features: Maldita Frontera, Ramon Carrillo, Pablo Castaneda, Eduardo Kintera, Fernando Garcia Rivas, Artists from Mexicali, B.C. Mexico. July 7 – 28th, 2012. Opening Reception: July 7th, 2012. 6pm to 10pm.

Grand Central Art Center is pleased to present ISM: 10 Year Celebration, an exhibition accompanied by a retrospective book to celebrate ISM: A Community Project for 10 years of creativity and accomplishments.

R.E.D. Gallery is pleased to present "The Freeway Series," a show of recent paintings and drawings by Jerrin Wagstaff.