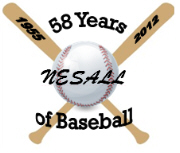 Congratulations to the Northeast Santa Ana Little League (NESALL) 11-Year-Olds as they beat Anaheim Hills 12-4 to advance to the District 30 Finals.  
This is the first team from NESALL in 15 years to make it to the finals!  The finals are on Saturday July 7, 2012 at 3:00 at North Sunrise Little League.  
Please come out to North Sunrise to support the NESALL 11 years olds as they take on Tustin Eastern in the finals.  North Sunrise is located at Handy Park, 2100 Oakmont, Orange California.
Come out in your NESALL wear and support the team!
Go NESALL!! 
Click here to visit NESALL's Facebook page.